Product description: Lipo Charger - charging module for Li-Pol batteries via USB C - DFRobot DFR0668
Lipo Charger module from DFRobot with USB type C connector. It is designed to charge oneLi-Polbattery cell of3.7V. The small size of the module allows you to use it in many scenarios and applications. The charger has a built-inTP4056Xchip, which ensures that charging isfastandsafe. The module allows you to adjust the power parameters to individual needs - it is possible to set up to three charging modes:50 mA,200mA and500 mA(default 50mA).
Technical specification of the module
Type: charging module for Li-Pol battery
Connector: USB type C
Built-in chip: TP4056X
Input voltage: 5 V
Charging current: 50 mA / 200 mA / 500 mA
Limited charging voltage: 4,2 V ± 1%
Operating temperature range: from -40°C to 85°C
Module dimensions: 16.5 x 28 mm
Lipo Charger - how to use
Connect the Lipo Charger module to an external power source via theUSB type Cconnector on the board. The module is also equipped with anLEDthat indicates the operating status:flashingwhen no battery is connected;onwhen the battery cell is connected;offwhen the battery is fully charged. Additionally, it is also possible to connectan external indicatorin order to monitor the charge level of the cell on an ongoing basis. The battery pack can be charged in three modes:holdcharge,direct currentcharge anddirect voltagecharge. In addition, the user can also select theamperageat which the cell is to be charged. During the selection, the capacity of the battery to be charged should be taken into account:
from 100 mAh to 400 mAh - 50 mA
from 400 mAh to 1000 mAh - 200 mA
> 1000 mAh - 500 mA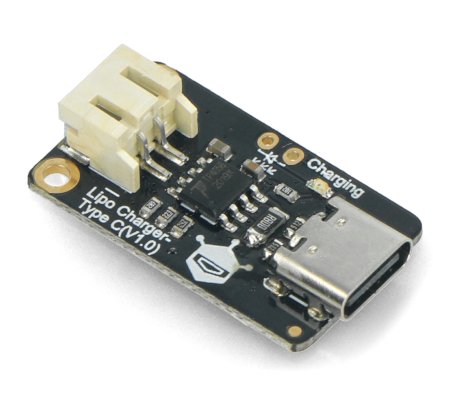 The integrated Lipo Charger has a selectable charging current level.
Attention!
Low current mode can be used to charge a high capacity battery, but high current mode cannot be used to charge a low capacity battery. The battery may explode if the charging current is too high.