Product description: LoRa-E5 mini STM32WLE5JC - 868/915 MHz LoRaWAN module - Seeedstudio 113990939
LoRa-E5 mini is a compact communication module in LoRaWAN standard, created by Seeedstudio company. Module allows for long range communication in LoRaWAN standard in 868 MHz and 915 MHz band, so it can be used both in the European Union and North America. The used STM32WLE5JC chip allows for data transmission within a range of up to 10 km. The chip is based on ARM Cortex-M4 core and Semtech SX126X LoRa supporting LoRaWAN protocol and GFSK, BPSK, GMSK and LoRa modulations.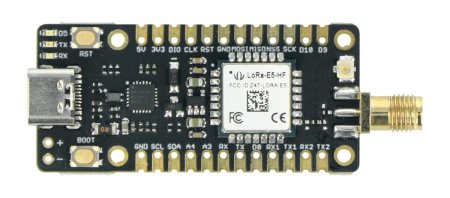 LoRaWAN communication module - LoRa-E5 mini.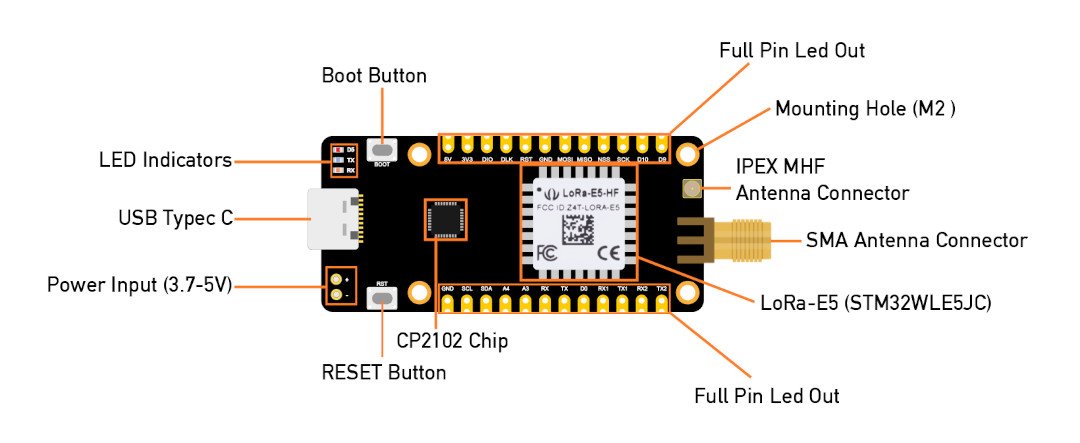 Arrangement of elements on the LoRa-E5 mini board.
Interfaces in the LoRa-E5 mini
The module with LoRa chip has all its GPIOs pinned out on 2.54mm pins, these are interfaces like UART, ADC, SPI, I2C. It has a built-in RESET and BOOT button. LoRa-E5 mini is a module with very long wireless communication range and ultra low power consumption. It allows sending and receiving data up to 10 km, and its resting current consumption is 2.1 uA (WOR mode). It is designed for industrial standards, and can operate from -40°C to 85°C, with sensitivity from -116.5 dBm to -136 dBm, and output power up to 20.8 dBm at 3.3 V.
Kit contents
LoRa-E5 mini module
Antenna
USB C cable
Goldpin connectors
Sticker with leads
How to use LoRa-E5 mini
Using AT commands - board has built-in USB - UART converter, so you can program the board connected to computer using AT commands.
Using UART interface - LoRa-E5 mini can communicate with another module, e.g. Seeeduino XIAO via UART interface and send and receive AT commands.
Create user applications using SDK - with the provided SDK files you can create your own LoRa board with MCU functionality using STM32Cube programmer.
What is LoRa?
LoRa or LoRaWAN is a very low power long range wireless communication protocol. The LoRa protocol in the LoRa E5-mini module uses sub-gigahertz free radio frequencies such as 868 MHZ (Europe) or 915 MHZ (North America).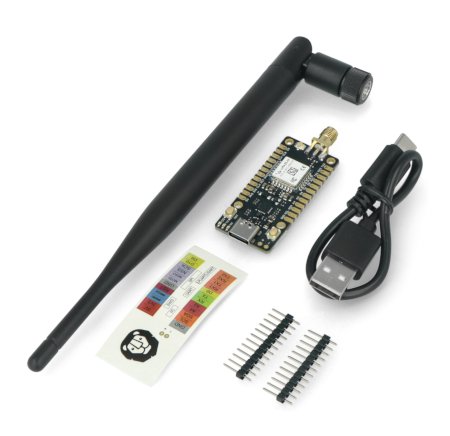 LoRa-E5 mini kit contents.
LoRa-E5 mini module specifications
Supply voltage
from 3.7 V to 5 V
Output power
up to 20.8 dBm at 3.3 V
Operating frequency
868 / 915 MHz
Protocol
LoRaWAN
Sensitivity
-116.5 dBm to -136 dBm
Interfaces

USB type C
2-pin 2,54 mm
2x 12-pin 2,54 mm
SMA-K
IPEX

Modulation
LoRa, (G)FSK, (G)MSK, BPSK
Current consumption
2,1 uA (in WOR mode)
Operating temperature
-40°C to 85°C
Dimensions
50 x 23 mm