Description of product: LoRaWAN Dragino LWL02 flood sensor - EU868MHz - Seeedstudio 101990941
Dragino LWL02 wireless flood detector powered by two AAA batteries . Equipped with the SX1262 chip, which is responsible for long-range LoRaWAN communication with very low power consumption. The sensor is equipped with two contacts , when there is water between them, the LWL02 will send the appropriate signal to the LoRaWAN receiving device. The sensor is powered by AAA batteries, which can provide from 16,000 to 70,000 uplink packages, which gives 2 to 10 years of battery life. When the battery runs out, it can be easily replaced by opening the housing. LWL02 sends data periodically every day as well as for every water leak event. It also counts the duration of the last water leak. Each LWL02 sensor is preloaded with a set of unique LoRaWAN registration keys, these keys need to be registered on the LoRaWAN server and it will connect automatically after power on.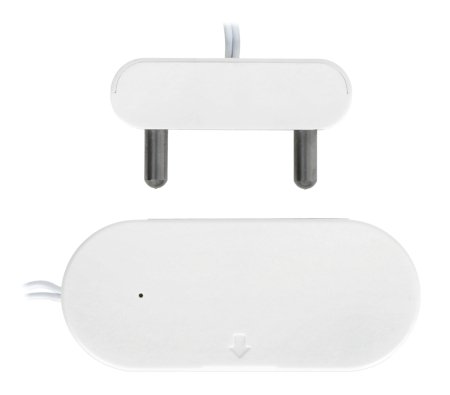 LoRaWAN flood sensor.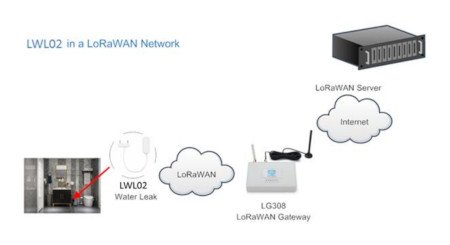 Sample connection diagram.
The main features of the LoRaWAN flood sensor
Compact dimensions
LoRaWAN version v1.0.3 A class
LoRa SX1262 long-range chip with low energy consumption
Powered by two AAA batteries
Convenient device configuration through AT commands
Periodic sensor data uploads and water leak events
Easily connect to a computer and update firmware via the program port
The manufacturer provides an instruction manual that guides you step by step on how to properly install the sensor.
LWL02 flood sensor specification
Communication: LoRaWAN
Power supply: 2x AAA (not included)
LoRaWAN version: v1.0.3 class A
Layout: SX1262
Two mounting holes: diameter 3.5 mm, spacing 45 mm
Dimensions: 73.9 x 31.39 x 20.1 mm
Kit contents
LoRaWAN LWL02 flood sensor - EU868MHz - Seeedstudio 101990941
‌