Product description: ArduCam Sony IMX219 8MPx camera - for Raspberry Pi - Rev.C
Camera module with Sony IMX219 sensor equipped with LS-40136 lens. Parameters: focal length 3,2 mm, angle 85 °, iris 2.0, 1/4" format. Connected to dedicated connector of a minicomputer Raspberry Pi versions 3, 2, B+, A+, Zero, Zero W.. The device has a 8 Mpx sensor, supports HD 1080 px / 30 fps mode.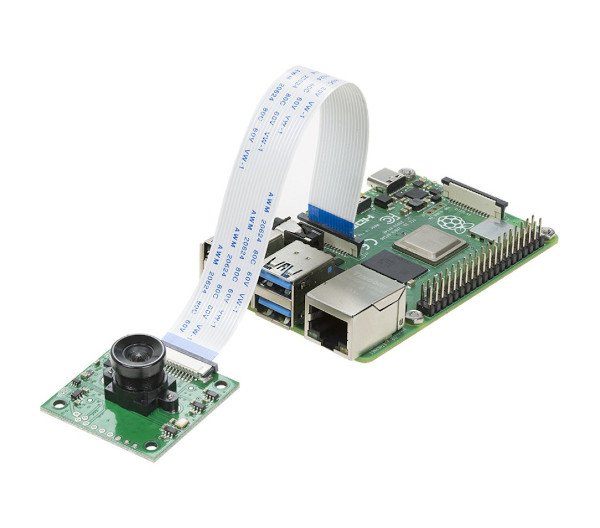 The camera is compatible with the original device for Raspberry Pi, just connect it to the dedicated CSI connector and enable it in the operating system settings.
Specifications
Camera compatible with Raspberry Pi versions 3, 2, B+, A+, Zero, Zero W
Sensor: Sony IMX219 (Documentation)
Resolution: 3280 x 2464 px
Video: up to 1080p, 30 fps
Lens mounting: M12
Lens: LS-40136 (documentation)
Focal length: 3.2 mm
Aperture: 2.0
Viewing angle: diagonal: 85 °
Format: 1/4 ''
It has 4 mounting holes
Dimensions of the plate module : 36 x 36 mm
Included
Sony IMX219 8 MPx camera with LS-40136 lens
Tape to connect to Raspberry Pi
Video showing how to connect the camera to the minicomputer.
ArduCam Sony IMX219 8 Mpx camera - for Raspberry Pi - Rev.C
We offer excellent camera module designed for use with Raspberry Pi minicomputer. The device uses popular Sony sensor - IMX219, so you can be sure of a very high quality of the image.
The device is equipped with LS-40136 lens, which has 3.2 mm focal length, F2.0 aperture, and 85° viewing angle. With four mounting holes provided, you can safely stabilize the entire module in its intended location.
Camera for Raspberry Pi with Sony IMX219 sensor
This device is compatible with Raspberry Pi minicomputer versions 3, 2, B+, A+, Zero, Zero W (some models require appropriate adapter). The camera is equipped with a sensor of 8 Mpx resolution.
The received video materials have 1080p resolution at 30 frames per second. Buying the product together with a camera and attached lens you will also receive the necessary connection tape, so you can start the camera right out of the box.