Product description: CSI-USB UVC adapter for Raspberry Pi HQ IMX477 camera - Arducam B0278
Adapter designed by Arducam company to work in conjunction with Raspberry Pi HQ. It allows you to connect Raspberry PI HQ camera and other Arducam cameras with IMX477 sensor with CSI connector to e.g. computer using USB connector, so it can work as webcam. The adapter is UVC compatible, so there is no need to install additional drivers for Windows, Linux and Mac.
The adapter is designed to work with the official Raspberry Pi HQcamera and Arducam cameras equipped with the IMX477sensor.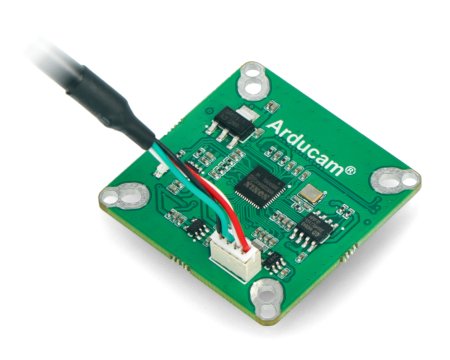 CSI - USB adapter for IMX477 cameras.
Main features of the CSI-USB UVC adapter
Allows to convert Raspberry PI HQ or any other camera with IMX477 sensor into a USB camera without installing additional drivers.
It has two built-in microphones, so you can record video with sound.
Supports resolution:

10 fps at 4056 x 3040
20 fps at 4K (3840 x 2160)
30 fps at 2592 x 1944 / 2560 x 1440
60 fps at 1080p
100 fps at 720p

It has the same dimensions and spacing as the camera board. Connects with the module using the included tape.
The set includes
UVC CSI adapter board
22 pin - 15 pin cable for Raspberry Pi HQ camera 3.8 cm long
Cable 22 pin - 22 pin with a length of 8 cm for Arducam cameras with IMX477 sensor
USB cable 1m long
Set of spacers, screws and nuts
Adapter specifications
Supports Raspberry Pi HQ camera and Arducam cameras with IMX477 sensor
Data format: MJPG
Supported resolutions:

4032 x 3040 @ 10 fps
3840 x 2160 @ 20 fps
2592 x 1944 / 2560 x 1440 @ 30 fps
1080p @ 60 fps
720p @ 100 fps

Automatically controlled functions: saturation, contrast, sharpness, white balance, exposure
Compatible systems: Windows 7 / 8 / 10, Linux, Mac and Android with UVC
Input signal: CSI 22 pin, 0.5 mm pitch
Output signal: ZHR-5 connector, 1.5 mm raster
Input voltage: 5 V
Communication port: USB 2.0
Current consumption: 200 mA
Operating temperature: from -20°C to 75°C
Cable length: 1 m
Hole spacing: 34 x 34 mm / 30 x 30 mm / 29 x 29 mm
Dimensions: 38 x 38 mm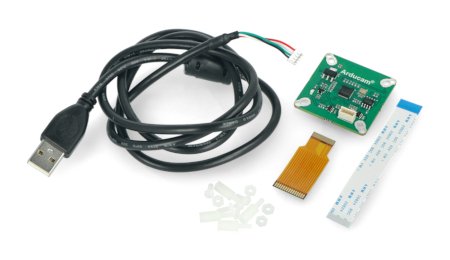 Kit contents.