Product description: ArduCam OV5647 5 Mpx camera with HX-27227 M12x0.5 lens
Camera module with OV5647 sensor equipped with HX-27227 M12x0.5 lens, with parameters: focal length 4.0 mm, angle 56°, iris 1.8, 1/2.7 format. Connected to dedicated connector of Raspberry Pi minicomputer ( version 4B, 3B+, 3B, 2B, B+, A+ ). The device has a 5 Mpx sensor, supports HD 1080 px / 30 fps mode.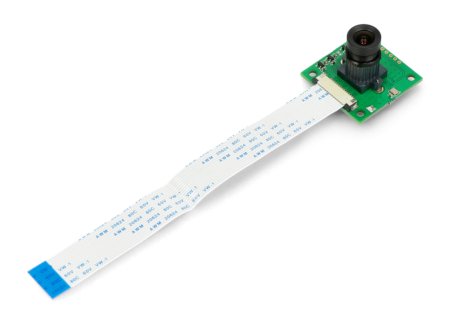 The camera is compatible with the original device for Raspberry Pi, just connect it to the dedicated CSI connector and enable it in the operating system settings.
Video showing how to connect the camera to the minicomputer.
Specifications
Camera compatible with Raspberry Pi versions 4B, 3B+, 3B, 2B, B+, A+
Matrix: 5 MPx
Sensor: OV5647(documentation)
Lens mounting: CS mount or M12x0.5
Lens: HX-27227(documentation)


Focal length: 4.0 mm
Aperture: 1.8
Viewing angle: diagonal: 56° (the camera does not support this angle, see the documentation for details)
Format: 1/2.7 ''

It has 4 mounting holes
Dimensions of board module : 36 x 36 mm
Included
5 MPx camera with LS-40180 lens
Tape to connect with Raspberry Pi
ArduCam OV5647 5 Mpx camera with HX-27227 M12x0.5 lens - for Raspberry Pi
ArduCam OV5647 with HX-27227 lens is a modern camera for Raspberry Pi equipped with 5 Mpx sensor. The device allows you to record high-resolution images, so it will be useful in many electronic projects.
You can use it for example when creating your own monitoring systems, IoT installations or building automation, as well as a part of robots, drones, toys or remotely controlled vehicles. The kit comes with a high-quality connection tape, allowing you to quickly plug the camera into your Raspberry Pi.
Multifunctional camera with lens for Raspberry Pi
The ArduCam OV5647 camera allows you to mount the lens using two popular mounts: CS Mount and M12. Thanks to that you can equip it with additional lenses and exchange them depending on current needs and preferences.
The module is compatible with Raspberry Pi boards versions A+, B+, 2 and 3. For more information about the camera and lens, please refer to the manufacturer's website and technical documentation, which are linked in the "Useful Links" box below.