Description
Module with analog-digital converter, delta-sigma type with 18-bit precision. It is equipped with four channels with differential inputs. It works at speed of up to 240 samples per second. It has the ability to change the amplification of: x1, x2, x8. It is supplied with the voltage from 2,7 V to 5,5 V, and communicates over I2C. The board consists of ferrite chokes which filter teh supply voltage.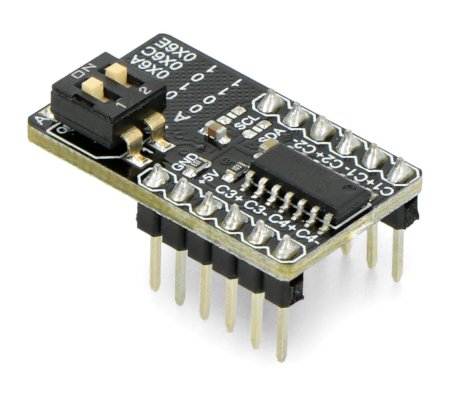 For communication, it uses the popular I2C interface with a possibility to choose of one of the four available 7-bit addresses through a slide switch. Thanks to such solution, on one bus you can connect several converters. Check the documentation for details in the table 5.
The device has two modes of operation:
One-Shot - converter performs a single conversion and returns to low power consumption mode until it doesn't get the command to do the next transformation.
Continuous- conversion occurs continuously with the selected speed.
Specification
Supply voltage: 2,7 to 5,5 V
Current consumption in standby mode: 300 nA (at 5 V)
Number of inputs: 4
Available reference voltage: 2,048 V ± 0.05 %, drift of 15 PPM /°C
Programmable amplification (PGA): x1, x2, x4, x8
Programmable resolution: 12, 14, 16, 18-bit
Programmable conversion rate: 240, 60, 15, or 3.75 Sps
Error of amplification: 0.05% (PGA=1,18-bit)
Offset: 15 µV (PGA=1,18-bit)
Communication interface: I2C
Built-in pull-up resistors of the I2C bus line
Operating temperature range: -40 °C to +125 °C
Connectors: goldpin strips - pitch of 2.54 mm (soldered)
Module dimensions: 27 x 16 mm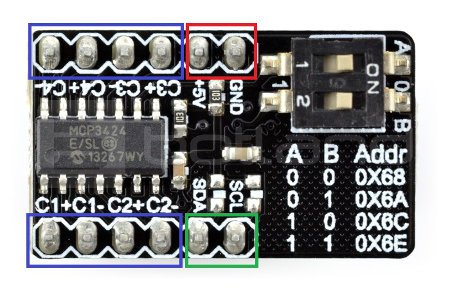 Pins
SDA- data line of the I2C bus
SCL - the clock line of the I2C bus
+5V - supply voltage in the range from 2.7 to 5.5 V
GND- ground of the system
Cx+, Cx-differential inputs to connect the analog signal
Pins aregoldpin connector with the pitch of 2.54 mm. Thanks to them, it is possible to connect the system with the breadboardor the main module (e.g. Raspberry Pi orArduino) viawires.