Description
The module working witha Raspberry Pi that provides the GSM and GPRS communication. It allows for voice chat, sending SMS messages. It also has built-in GPS module. It supports LTE CAT1. On the Board are: connector for SIM-card u.FL dlot for mounting an externalantennaand connector mini-jack for microphone or headphones.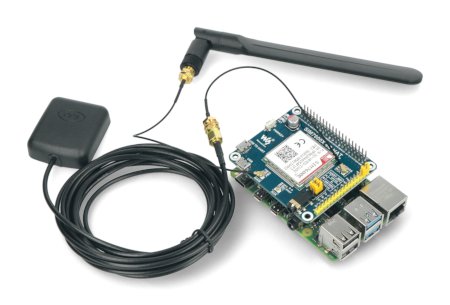 The subject of the sale is a shield, minicomputerRaspberry Pican be purchased separately.
Applied SIM7000E module provides a connection through the network GPRS/LTE, it also has a GPS module. On the board is the slot for SIM card and slot mini Jack 3.5 mm.
Attention!
System SIM7600E-H supports a range of region of Europe, Africa, South-Eastj Asia and Western Asia, before buying, you should make sure that the operator supports the given range.
What's on the Board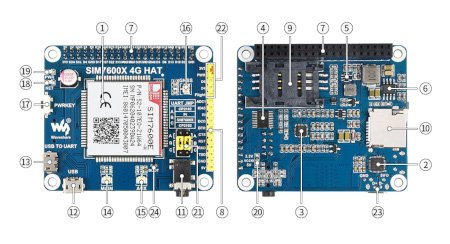 System SIM7600E-H
Converter USB-UART CP2102
Audio decoder NAU8810
Voltage transistor TXS0108EPWR: reduce 3.3 V/ 5 V to 1.8 V
Power system MP2128DT
Power system MP1482
GPIO connector of the Raspberry Pi
Slot for SIM card: supports the SIM card 1.8 V / 3 V
The microSD card slot: allows you to store SMS files
Connector of 3.5 mm mini jack for microphone / headphone
USB connector: for testing AT commands, downloading GPS data, etc.
USB - UART interface: for debugging the serial
Main antenna connector
Antenna connector AUX
Antenna connector GNSS
The power switch
LED indicating the network
LED indicating the power
Jumper changing the input voltage:
VCCIO - 3.3 V: sets the voltage of 3.3 V
VCCIO - 5 V: sets the voltage 5 V
The choice of UART
access to Raspberry Pi via USB - UART
management of SIM7600 using Raspberry Pi
management of SIM7600 via USB - UART
Zworka konfiguracji PWR
Pola lutownicze na złącze USB
BOOT
Specification
Supply voltage: 5 V

Working voltage: 5 V / 3.3 V (by default - 3.3 V)

M

oduł controlled with AT commands
Built-in GSM/LTE/GPS SIM7600E-H module:

6-band LTE-FDD: B1 / B3 / B5 / B7 / B8 / B20
3-band LTE-FDD: B38 / B40 / B41
3-band UMTS/HSPA+: B1 / B5 / B8
GSM/GPRS/EDGE 900 / 1800 MHz
UMTS: 384 Kbps (up), 384 Kb/s (down)
HSPA+: 5.76 Mbps/sec (up), 42 Mbps (down)
EDGE: 236.8 kbps (up), 236.8 kbps (down)
GPRS 85.6 kbps (up), 85.6 kbps (down)
Output power:

GSM900: 2 W
GSM1800: 1 W
EGSM900: 0.5 W
DCS1800: 0.4 W
LTE: 0.25 W

Generation:

LTE: 4G
WCDMA / TD-SCDMA / CDMA 2000: 3G
EDGE: 2.5 G
GSM/GPRS: 2G

Operating temperature: -30 °C to 80 °C
GNSS (GPS, GLONASS)
Type of receiver:
Frequency:

Tracking: -159 dBm (GPS) / -158 dBm (GLONASS)
Cold start: -148 dBm

Time-To-First-Fix

Cold start: <35 sec
Hot start: < 1 sec

Accuracy:

The GNSS and GPRS antenna for U. FL connector
Board sizes: 56 x 65 mm
Set includes
Shield with module SIM7600E-H
Antenna GSM SMA
GPS SMA antenna
2x microUSB cable
2x adapter SMA - u.Fl
Screws and spacers