Product description: NB-IoT GSM SIM7020E - communication module for Raspberry Pi Pico - Waveshare 19622
ThePico-SIM7020E-NB-IoTis an NB-IoT (NarrowBand - Internet of Things) module compatible with theRaspberry Pi Picoboard, which has been manufactured by Waveshare. It supports a wide spectrum of NB-IoT frequency bands and communication protocols such asHTTP / MQTT / LWM2M / COAP. The SIM7020E GSM module can also be controlled fromAT commands. A number of advantages includelow latency, low power consumption andwide range, making the NB-IoT GSM SIM7020E applicable in smart instrument design, asset tracking, mobile POS terminals, smart gauges or remote monitoring.

The NB-IoT GSM SIM7020E is a communication module for Raspberry Pi Pico.
Product is compatible with Raspberry Pi Pico.
Aproduct wiki pagehas been made available on the manufacturer's website, which contains a detailed user guide to help you get started with the module. There are also instructions for connecting the modules and sample program code.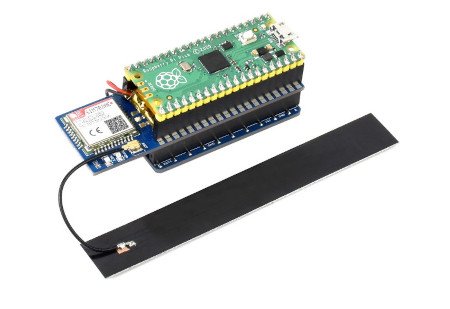 Connecting the Pico-SIM7020E-NB-IoT to the Raspberry Pi Pico. TheRaspberry Pi Picoboard is not part of the kit, it can be purchased separately from our store.
Special features
Comes with a connector to make it compatible with Raspberry Pi Pico
Uses UART communication, can be controlled by AT commands
Supports a wide range of communication protocols and cloud platforms
Equipped with PH2.0 connector which allows to supply power from external power source e.g. Li-Pol battery and USB connector which can be used to get power from Raspberry Pi Pico
Two LEDs on the board to indicate module operation
Built-in Nano SIM card slot for a specific NB-IoT card
The SIM7020E GSM module can retrieve weather information via HTTP GET and then send the readings to a server via HTTP POST and display them on a web page in real time
Note:
SIMCOM module manufacturer prohibits selling the product and providing technical support for it in countries and regions: Iran, North Korea, Cuba, Sudan, Syria.
Technical specification of the module
Compatible with Raspberry Pi Pico
Chip: SIM7020E
LTE-FDD frequency band: B1 / B3 / B5 / B8 / B20 / B28
Data rate:

receiving: 26.15 kbps
Transmission: 62.5 kbps

Communication interface: UART
Baudrate: 300 b/s to 921600 b/s (default 115200 b/s)
Communication Protocol: TCP / UDP / HTTP / HTTPS / MQTT / LWM2M / COAP / TLS / DTLS / DNS / NTP
Supported Regions: Asia, Europe, Africa, Australia
Module power supply:

external power source: Li-Pol battery (3.7 V to 4.2 V)
Raspberry Pi Pico USB port (3.3 V)

Current consumption:

idle mode: 5.6 mA
sleep mode: 0.4 mA
PSM mode: 3.4 μA

Module dimensions: 73.5 x 24 mm
Contents of the kit
Pico-SIM7020E-NB-IoT communication module
External antenna
20-pin goldpin connector strip with male socket - 2 pcs.
40-pin goldpin connector strip
Lithium-ion Li-Pol 3.7 V battery