Product description: IR remote control 21 buttons
Universal IR remote control transmitting in the infrared band. It allows you to create a wireless communication with any microcontroller via IR receiver. It is powered by one CR2025 battery which is not included in the set. However, it can be purchased separately in our shop. Pilot is equipped with twenty one buttons. It can be used for various types of DIY solutions. It also allows you to operate various electronic devices such as TV, radio or even robots. In addition, you can use it in various projects with microcontrollers. Infrared remote control requires mutual visibility of the transmitter and receiver. The size of the device is very small, only 86 x 40 x 7 mm.
The IR remote control is powered by oneCR2025battery which can be purchased separately.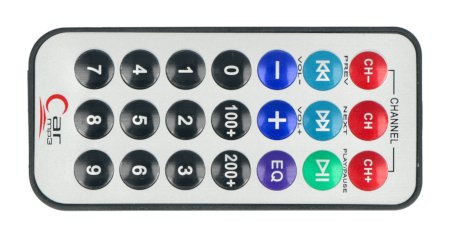 Technical specifications of the remote control
Type of communication: wireless IR
Number of buttons 21
Power supply: 1xCR2025battery (not supplied)
Colour: black
Housing material: plastic
Dimensions: 86 x 40 x 7 mm