Description
The robot arm can be operated using 5 micro servos. Special design allows you to control each finger separately. The device can lift up to 500 g. Arm length is 330 mm.
All the fingers have damping springs, which protects the hand from mechanical damage. The module can be controlled via theservo controller or withthe Arduino.
The product is compatible with Arduino
Sample code and detailed information can be found inthe user guide.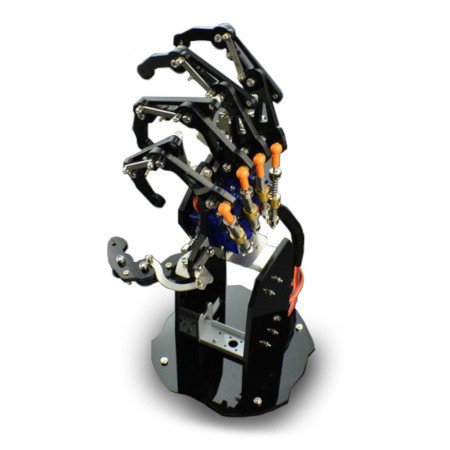 Product features
Each finger is controlled separately
Damping springs for protection against mechanical damage
Material: acrylic
Assembled, ready to use
Compatible with Arduino and other microcontrollers
The recommended supply voltage of 5 V / 2 A
Specification
Supply voltage: from 4.8 V to 6 V
The control signal from 1.0 MS to 2.0 MS (from 45 ° to 135 °)
Maximum current: 2 A
Load capacity: 500 g
Torque servo:

2.4 kg*cm (0,23 Nm) to 4.8 V
2.8 kg*cm (0,27 Nm) for 6 V

Speed:

0,11 sec/60

° at 4.8 V

0,09 sec/60

° 6 V

The color of servo outputs:

Brown: GND
Red: VCC
Orange: control signal

Operating temperature: 0 °C to 55 °C
Arm dimensions: 330 mm
Weight: 916 g