Product description: Fermion - AS7341 11-channel visible light sensor - DFRobot SEN0365
A module manufactured byDFRobotwith an embeddedAS7341chip. It is an 11-channel visiblelightsensor that uses a new generation of chip -the spectralsensor. The module has eightvisible lightchannels, onenear-infraredchannel and onefilterlesschannel. Additionally, it also has one channel dedicated toambient light flicker detection. The sensor fromDFRobotis equipped with 6 independent16-bit ADC channelsthat allow parallel data processing.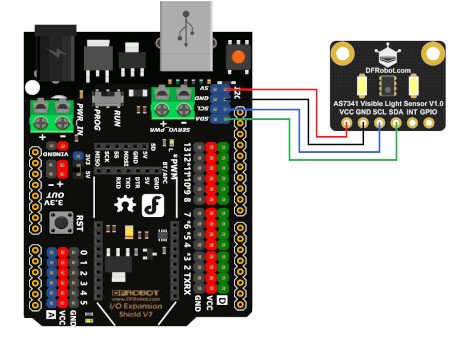 Example diagram of sensor connection using DFRobot board, Arduino equivalent. The board is not a part of the kit, you can buy it separately in our shop.
Leads description and example connection diagram
The module hasleadsin the form of solderfields, to which you should solder includedgoldpin connectors. Connect thesensorto the microcontroller module according to the following description:
VCC- power supply pin from 3,3 V to 5 V
GND- system ground
SCL- I2C interface clock line
SDA- I2C interface data line
INT- interrupt pin (activated by low state)
GPIO- general purpose input/output pin
Technical specification of the visible light sensor from DFRobot
Module: visible light sensor
Embedded chip: AS7341
Number of channels: 11
Visible light detection ranges:

F1 - from 405 nm to 425 nm
F2 - 435 nm to 455 nm
F3 - 470 nm to 490 nm
F4 - 505 nm to 525 nm
F5 - 545 nm to 565 nm
F6 - 580 nm to 600 nm
F7 - 620 nm to 640 nm
F8 - 670 nm to 690 nm

Input voltage range: 3.3 V to 5 V
Operating current (diode off): < 5 mA
LED control current: class 1-20 (4 mA to 42 mA)
Communication interface: I2C bus
Interface address: 0x39
Operating temperature range: from -30°C to 85°C
Operating humidity range: from 5% to 85% RH
Module dimensions: 18 x 14 mm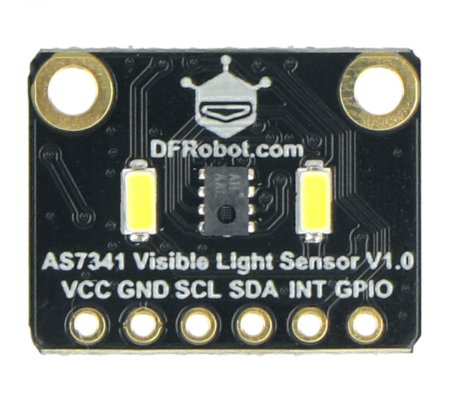 Sensor with built-in AS7341 chip.
Special features
8 optical channels covering the visible spectral range
50 Hz and 60 Hz ambient light flicker detection
6 independent 16-bit ADC channels
Precision colour detection and matching
Detection of colour mixing effect
Can be used to adjust the color temperature of lighting, among other things
Kit contents
11-channel visible light sensor AS7341
1x6 goldpin strip - 2.54 mm pitch