Description: Shelly Dimmer 2 - 230V WiFi lighting controller - Android / iOS application
Ready-to-use, smallShelly Dimmer 2module that allows you to controlthe lighting.It can be used to switch the light on/off andto control its brightness.It works with 230 V deviceswithpower from 10W to 200 W.The controller has a built-in function of measuring energy consumption. It communicates through theWiFinetwork using the application for mobile devices, so you can control the lightingfrom anywhere in the world.Thanks to its small size, the module can be locked in an electrical box.
The voice assistant ofGoogle Home orAmazon Alexa will also be useful in controlling the module. Shelly Dimmer 2 can also be integrated with popular systems such as: MQTT, HomeSeer, openHAB, Home Assistant, iBroker, REST, Hubitat, HOOBS, Symcon, Domoticz, Nymea.
Main features of Shelly Dimmer 2 controller
Remote control- allows you to control your home lighting from anywhere in the world
High compatibility- driver compatible with Android, iOS, Amazon Alexa and Google Assistant
Wireless- no additional HUB required, directly connected to the home WiFi network
Wide supported voltage range- Shelly Dimmer can be used with a wide range of bulbs
Sunrise and sunset schedule- automatically detects sunrise and sunset and controls your lighting accordingly
Weekly schedule- in the application you can set your own preferences for automatic light on/off or dimming depending on the day and time
ON/OFF and dimming function- allows the light to be switched on/off and dimmed
Overheating protection-

built-in temperature sensor to protect the module from excessive temperature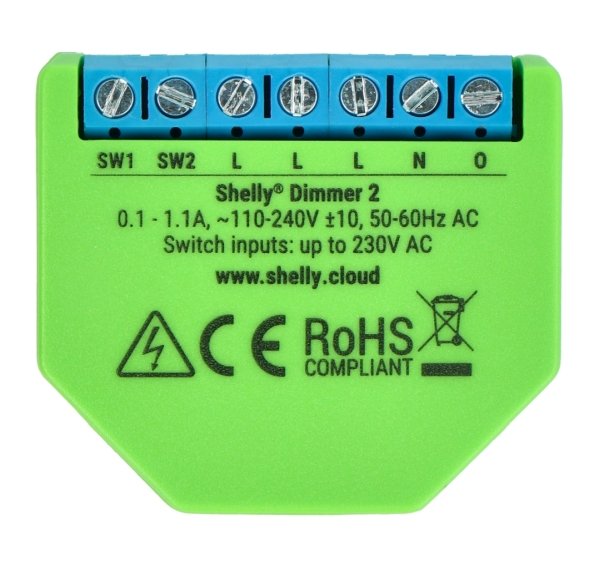 Lighting Controller - Shelly Dimmer 2.
Shelly Dimmer 2 controller connection diagram
Before installing the controller, disconnect the power supply in the circuit in which it will be installed. The module should be installed in a place protected from external conditions, protected from access by third parties. The controller does not require an N-line for proper operation.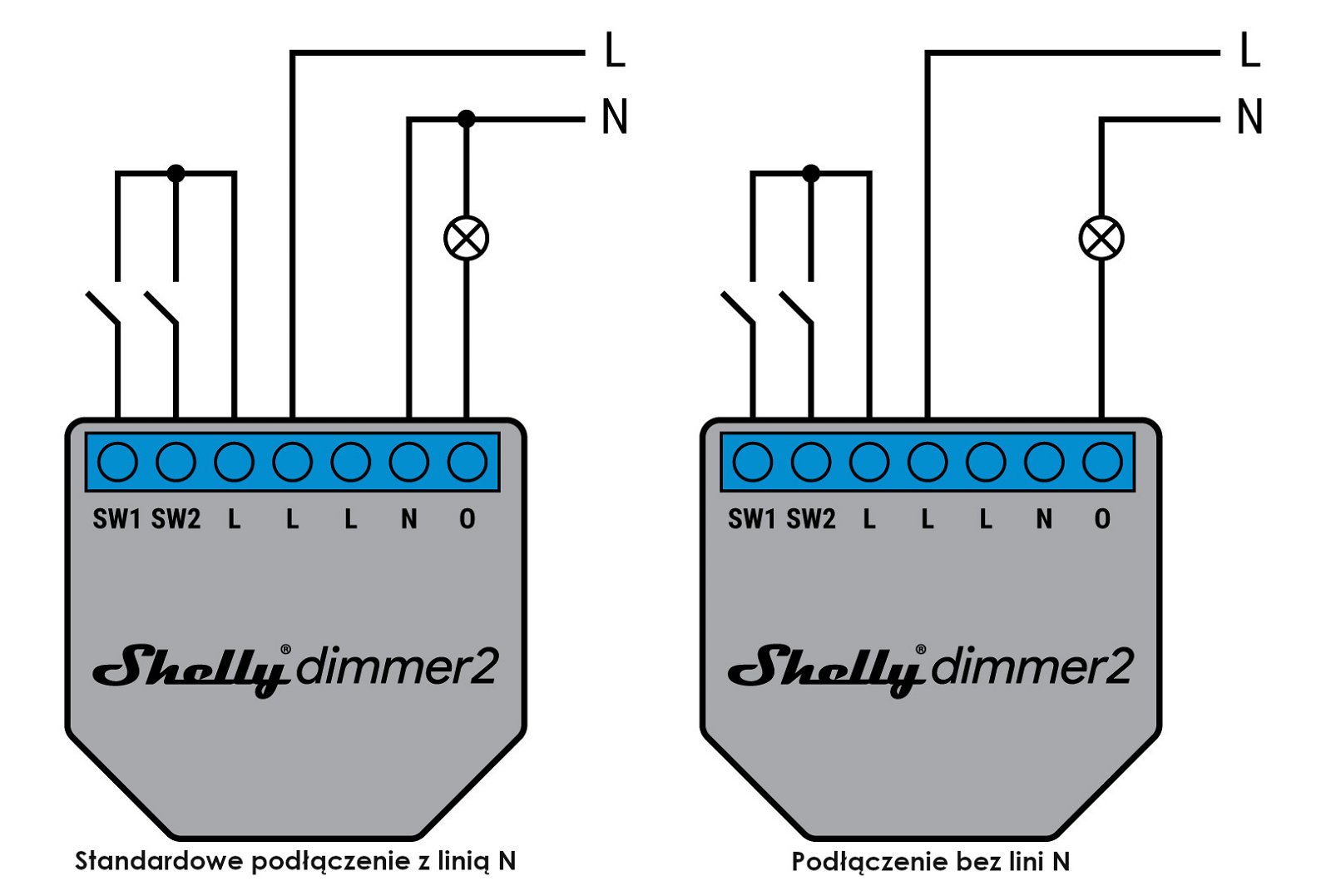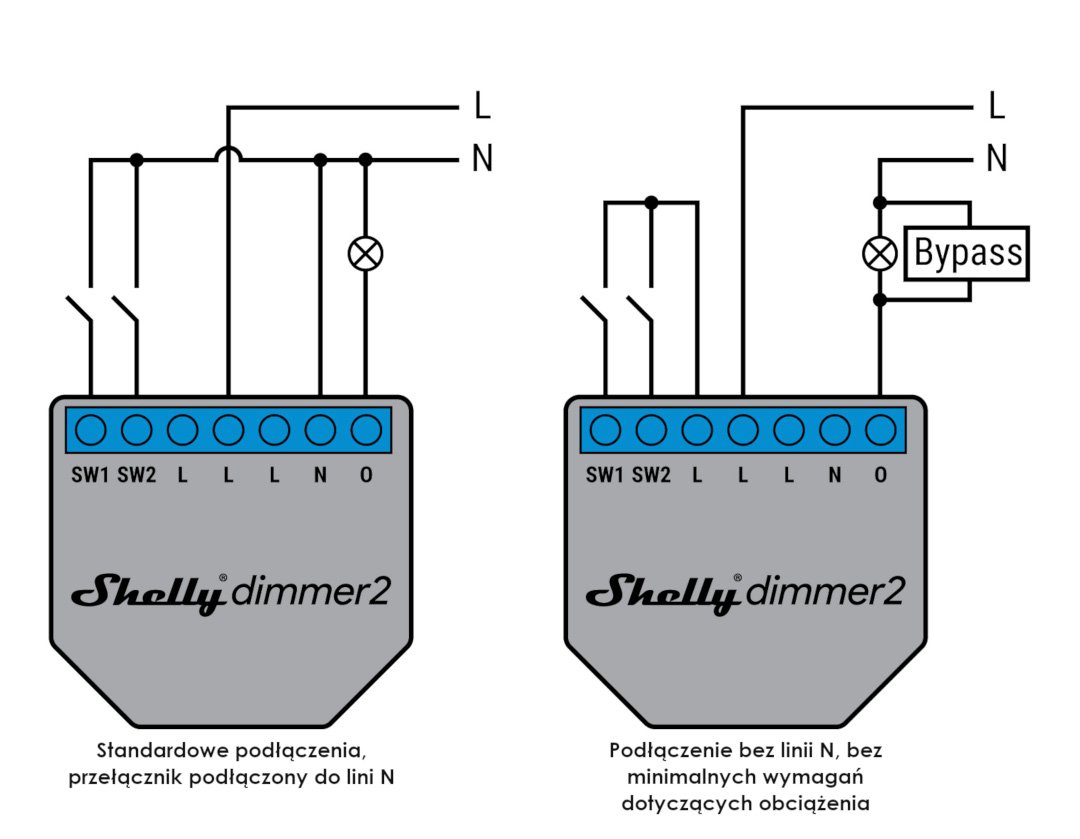 Wiring diagram.
The module has five inputs in the form of screw terminals, to which wires can be connected with a screwdriver:
SW1 / SW2- inputs to connect the button
L- power supply from 110 V to 240 V AC - positive pole
N -power supply - negative pole
O- light source output
Debugging port
Shelly Dimmer lighting controller specification
Supply voltage: 110 to 230 V ± 10% 50/60 Hz AC
Power consumption: up to 1 W
Integrated energy measurement
Supported light sources:

Filament lamps and halogen lamps: 10 W to 220 W
Dimmable LED: 50 V to 200 V / 10 W to 200 W
Ferromagnetic, resistive-inductive transformers: 50 V to 150 V

Communication: 2.4 GHz WiFi 802.11 b/g/n
Range: up to 50 m outside / up to 30 m inside (depending on terrain and buildings)
Protection against overheating and overload
Operating temperature: 0°C to 35°C
Dimensions: 42 x 36 x 14 mm