Product Description: Solid State Relay SSR-40 A 440 V AC / 40 A - 32 V DC
SSR solid state single phase relay with 440 V AC and 32 V DC. The rated current is 40 A. Thanks to solid-state technology, the relay has no mechanical contacts, which has a positive effect on the durability of the equipment. No contacts also means no noise when switching.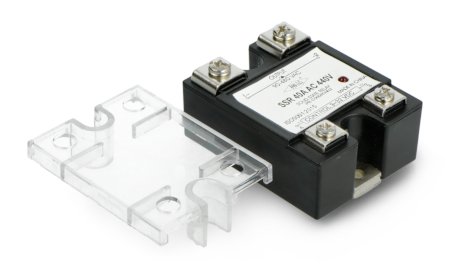 Technical specifications of the relay
Operating voltage: from 3 V to 32 V
Load voltage: 240 V to 440 V
Rated current: 40 A
Instantaneous current: 410 A
Current consumption: 7.5 mA (12V)
Response time: up to 10 ms
SSR-40A Solid State Relay 440VAC / 40A - 32VDC
The single channel SSR solid state relay can safely operate in a wide temperature range of -20 ℃ to +80 ℃. The insulation strength is more than 50 (mΩ)/500 V DC. In turn, the dielectric strength is more than 2.5 KV AC per minute.
The housing is made of lightweight and durable ABS material. What else distinguishes a solid-state relay? The diagram of the device shows not only the connection possibilities, but also the physical dimensions. In addition, the relay 240 V / 440 V is characterized by a long service life, even with intensive use.
Solid state single-phase relay SSR-40A 440VAC - additional information
This SSR relay is distinguished by a wide range of applications. It will be very useful in home automation systems, as well as in industrial systems.
The 40A relay is characterized by a minimum tripping current of 7.5 mA at 12 V.