Product description: Laser distance sensor Lidar TF03 IP67 - 100m - UART, CAN
Precision laser distance sensor capable of measuringfrom 0.1 m to 100 m, with an accuracy of0.1 m. The viewing angle of the FOV sensor is0.5°.Lidar TF03 is powered by5 V. For communication it usesUART and CANinterface. The refresh rate isfrom 1 Hz to 10 kHz. Theemitted light wavelength is 905nm.It isenclosedin an aluminium housing with IP67 protection, whichmakesit resistant tocorrosion,dirt and ambient light.
Application of TF03 sensor
Autonomous vehicles
Barrier avoidance system in drones
Speed control systems
Various industrial applications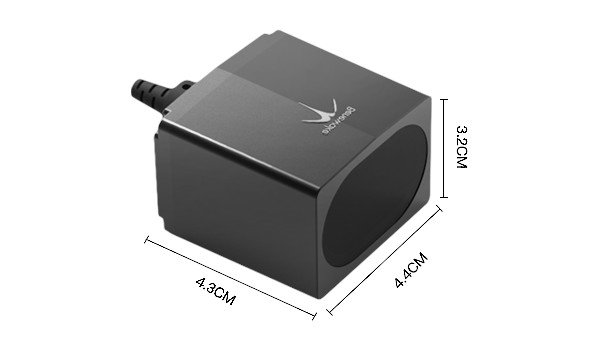 Lidar TF03 sensor.
Lidar TF03 sensor specifications
Supply voltage: 5 V
Current consumption: ≥ 180mA
Measuring range:

for a reflectance of 10 %: 0.1 to 40 m
for a 90 % reflectance: 0,1 to 100 m
for a reflection factor of 10% and 100 k lux: 0.1 to 30 m
for a reflectance of 90% and 100 k lux: 0.1 to 80 m

Accuracy:

to 10 m: ± 10 cm
from 10 m: 1 %

Operating frequency: 1 Hz to 1000 Hz (default 100 Hz)
Light beam length: 905 nm
Operating angle 0.5 °
Degree of protection: IP67
Corrosion resistant
Resistant to contamination
Resistant to ambient light up to 100 keysx
Operating temperature: -25 °C to 60 °C
Communication: UART, CAN
Dimensions: 44 x 43 x 32 mm
Weight: 77 g