Product description: Tinycontrol LANKON-008 - LAN V3.5 controller HW v3.8 - digital I/O / 1-wire / I2C
The device, acting as a WEB server. Allows you to read sensor readings and remote control of 6 outputs. This version has many improvements compared to version V2, for example, signal amplifiers, support for the I2C bus, a modern WEB server, a vast array of events and Scheduler, as well as a new communication Protocol: MQTT. Board can be powered via PoE. LAN controller V3.5 works as simple home automation.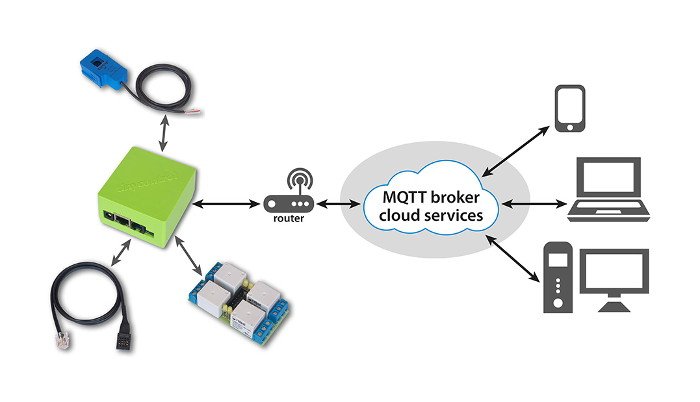 LAN V2 controller works as a simple home automation. It can monitor the status of the installation, measure the renewable energy supply or measure the power consumption for different devices. The device has various application depending on the customer's needs. 
Improve
The module has a number of improvements compared to versionV2.
Amplifiers for measuring small signals, allowing e.g. the AC measurement
Support of the I2C bus
New MQTT communication Protocol that enables remote gathering, processing and viewing data as well as control outputs in case when the module is placed behind a router
The WEB server with increased functionality, new menu and a lot of configuration options
Extended Event table allows you to check the conditions on the two inputs
New Scheduler with virtual output EVNT that you can use in the event table by simple programming of the the time and circumstances of when the event turns on, the possibility of setting a certain piece of data
MQTT server

Gathering of transmitted data from LAN Controller sensors, and making them into charts: Charts, Listings
Set filters for incoming data to send messages to MQTT: Format/Filter/Topic (e.g. controlling outputs based on the data transmitted form another one)
Control accordring to time settings with large number of events: Manage tasks
Control LAN Controller from an app on the phone or via the web page, regardless of the  connection place in the network.
Examples of application
Watchdog ISP for checking Ethernet and resetting devices
Temperature control in rooms
Remote control of lighting
Managing turning on and off using a wall switch or remotely
Monitoring the supply voltage and switching to the backup source
Remote control of distant devices
Measurement of the operation of solar panels, wind turbines etc.
Battery charging control
Measurement of power consumption by DC receivers
Monitoring and control of temperature and humidity in greenhouses
and many others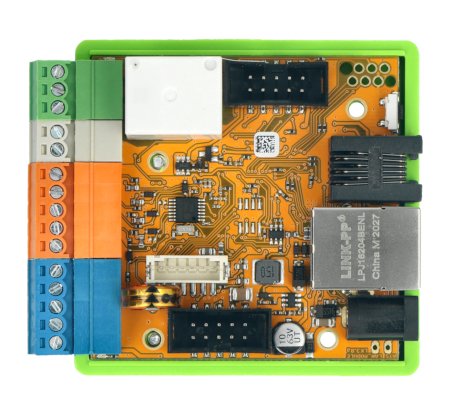 Specification of product
Supply voltage: 8V to 55V
Power consumption: 0.5W (without built-in relay)
Power supply:

External power supply 

DC 5,5 /2,5 mm

PoE (Power over Ethernet)

Interface: Ethernet 100 Mbit/s
4 analog inputs with switchable gain: measurement from 1mV to 33V
2 analog input for 3.3 V: to measure DC current using additional sensors
1 digital input as standard 1-wire and I2C from 4 to 6 sensorsDS18B20and up to 2 sensors I2C
1 digital input for sensor operation temperature and humidityDHT22
4 logic inputs: position sensors and pulse transmitters
1 relay: NC, WELL and C
1 transistor output: control devices up to 1 amp
4 outputs for switching transistors, relays, etc.
4 PWM output: possible to control services (after upgrade)
UART interface: for communication with, for example, Inwers (for example, Duraluxe)
Collaboration with communication modules Lora, GSM - ability to send texts (after upgrade)
Measurement of temperature and voltage on the Board
The possibility of introducing your own WEB page (after upgrade)
Logon as the administrator (setup) or as a user (view only)
Table of events with the ability to check two conditions
Protocols: SNMP, HTTP GET/POST request and MQTT
The possibility of collecting data in the cloud (after upgrade)
the ability to remotely control the outputs of the device even when it is behind a router through the cloud, as well as from a smartphone (after upgrade)
Relay: 255 VAC / 10A
Operating temperature: -20 °C to 85 °C
Dimensions: 68 x 66 x 48mm
Weight: 92g