Product description: Tuya Dimmer - 230 V WiFi lighting controller
A small, ready-made 230 V lighting controller module via WiFi. The module allows you to switch on/off the light circuit, as well as change the brightness of the light source in the form of a traditional bulb or LED. The maximum power of the controlled device is 150 W.Free application allows you to control the device from any place in the world. The module can also be paired with avoiceassistant such as GoogleHome or AmazonAlexa.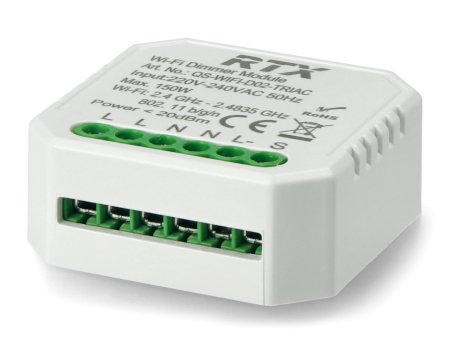 Tuya lighting controller.
Wiring diagram of the Tuya Lighting Controller
Before installing the controller, make sure that no current is flowing in the circuit. The device can be installed in an electrical box and controlled by traditional monostable (bell) key switches.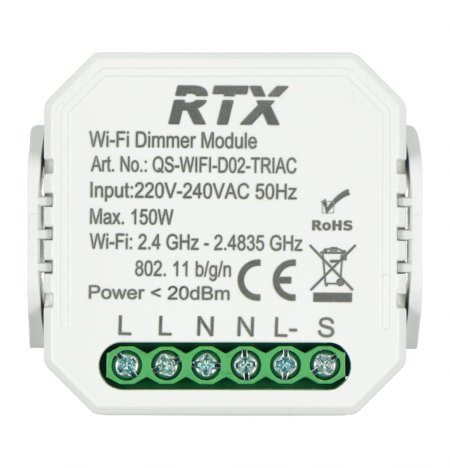 Driver outputs.
The module has six inputs in the form of screw connectors to which wires can be connected with a screwdriver:
L- 230 V positive pole supply.
N- power supply, neutral wire - ground.
L-- power supply for the controlled light source.
S -possibility of connecting an external push-button for the L- output, the second line of the push-button should be connected to the phase line marked with the L symbol.
Supported functions of Tuya application
Turn on / off / dimming / brightening the light from any location in the world.
Switch on / off / dimming / brightening the light locally, manually by pressing a button.
Timer - setting time to switch on.
Scene - setting control dependence on time of day.
Voice control when connected to Google Home or Amazon Alexa.
Tuya relay specification
Supply voltage: 220 V to 240 V AC / 50 Hz
Load power: 150 W
Number of channels: 1
2.4 GHz WiFi communication
WiFi range: up to 200 m (depending on ambient conditions)
Operating temperature: -10°C to 40°C
Dimensions: 46x 46 x 18 mm
Weight: 72 g