Product description: MPU6886 6-axis IMU module - accelerometer and gyroscope - Unit extension module for M5Stack development modules
Unit typeextension -6-axis IMU modulecombines gravityaccelerometerandgyroscope. It has built-inMPU6886chip. Allows to determineaccelerationin the range± 2 g / ± 4 g / ± 8 g / ± 16 gand angular velocity± 250 / ± 500 / ± 1000 / ± 2000 °/s.Uses I2C communication interface. It is powered from 1.7 V to 3.45 V.
What is an accelerometer?
Accelerometer is a device that measuresaccelerationdue to gravity. This is done by determining the angle at which the device is tilted relative to the Earth. The sensor also analyzes thedynamicacceleration caused by the movement of the device. Thanks to that it provides information about the direction in which the device ismovinganditscurrent position.
What is a gyroscope?
A gyroscope is a device that can determine spatial orientation in three axes: X, Y and Z. For this purpose it uses angular velocity, which is analyzed according to the principle of conservation of angularmomentum.
Technical specifications of the IMU sensor
Type: 6-axis IMU sensor
Sensors:

3-axis gravity accelerometer
3-axis gyroscope

Embedded chip: MPU6886
Accelerometer range: ± 2 g / ± 4 g / ± 8 g / ± 16 g
Gyroscope measurement range: ± 250 / ± 500 / ± 1000 / ± 2000 °/s
Gyroscope measurement sensitivity: 1%
Operating voltage: 1.71 V to 3.45 V
Communication interface: I2C bus
Interface address: 0x68
Module dimensions: 24 x 24 x 13 mm
Weight: 4 g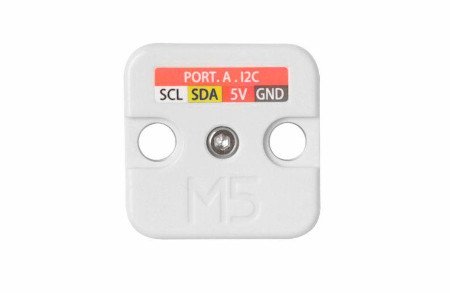 Supported by popular programming environments such as Arduino.
Features
For use in UAV tracking and positioning applications
Compatible with theM5Stackseries of development modules
Supported development platforms: Arduino, UIFlow (Blockly, Python)
Equipped with two LEGO compatible holes
Contents of the kit
6-axis IMU Expansion Unit
Connection cable with Grove connector - length 5 cm
In our shop you will also find otherUnittype extensions that will allow you to extend any project according to your individual needs.