Product description: Zamel Supla MEW-01 - WiFi electricity consumption monitor - Android / iOS application
The monitor allows you to control power consumption viaWiFinetwork.It is a3-phasedevice for easy installationin the electrical switchboard. It is designed for mounting on aDIN TH35rail.It is important to mount100 A transformers (included) and an antenna,the antenna can be mounted outside the switchgear, the module has a SMA connector. The monitor also enables measurement for 1phase.The measurement is carried out with 100 A current transformers. The device sends the collected data to the cloud, which can be read in the application.
Main features of the energy consumption monitor
Easy installation - no additional wiring is needed.
SUPLA community - developed community, you can look for support and inspiration on the community forum.
Includes 3 current transformers.
WiFi communication - no need to invest in expensive building automation controllers.
Measurement of energy consumption and current, voltage, power on 3 phases.
Possibility to measure also on 1 phase.
Possibility to remotely monitor whether your home appliances have been switched off.
Data transfer to the cloud, downloading reports to an Excel file and the ability to read data in a mobile application.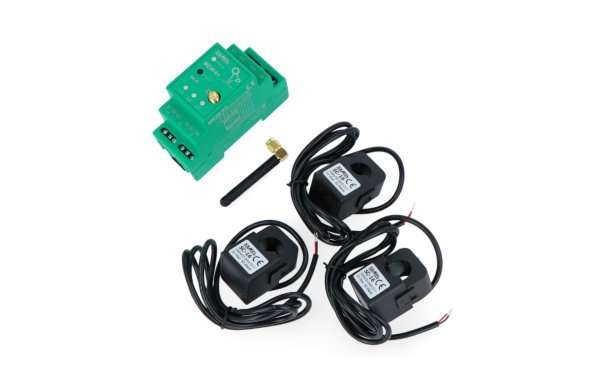 Contents of the Kit Supla MEW-01.
Connecting an energy monitor
The module has ten inputs in the form of screw connectors, to which you can connect the wires with a screwdriver:
V1, V2, V3 -connection of power supply circuits (L), on which the measurement is to take place.
N- connection of power supply cable, ground.
3xS1, S2- inputs for connecting transformers. S1 - black wire, S2 - red wire.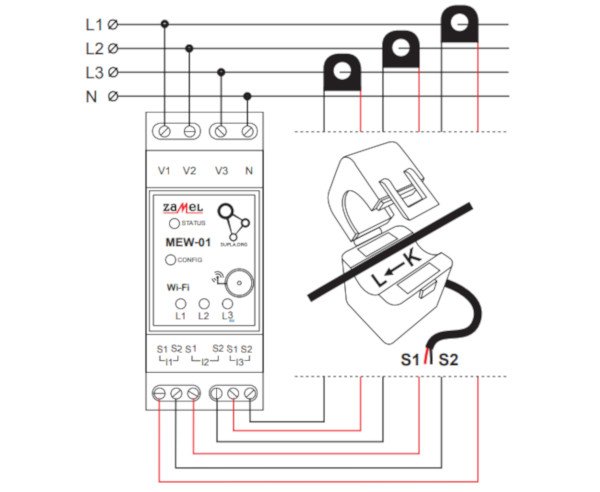 The diagram of connecting the electricity consumption monitor.
Electricity consumption monitor specification
Model: MEW-01
Installation: TH35 DIN rail
Measurement: indirect / semi-direct
Type of energy measured: active and reactive power
Accuracy class: A
Maximum measured current: 100 A
Number of phases: 3 with neutral conductor
Number of tariffs: 1
Degree of protection: IP20
Weight: 0,4 kg
The Kit Supla MEW-01 includes
Energy consumption meter
3x 100 A transformer
SMA antenna