Product description: Zamel LIW-01 - WiFi pulse counter
The Zamel Pulse Counter is asimpledevice for countingelectricalimpulses. It allows to measure consumption from energy, water or gas meters.LW-01counts pulses from the outputs or pulse covers in the meters and then sends them to the Supel cloud via WiFi network. It is mounted on a DIN rail,thanks toits small dimensions it occupies the width of only one module. Powered by 12 V to 24 VAC / DC.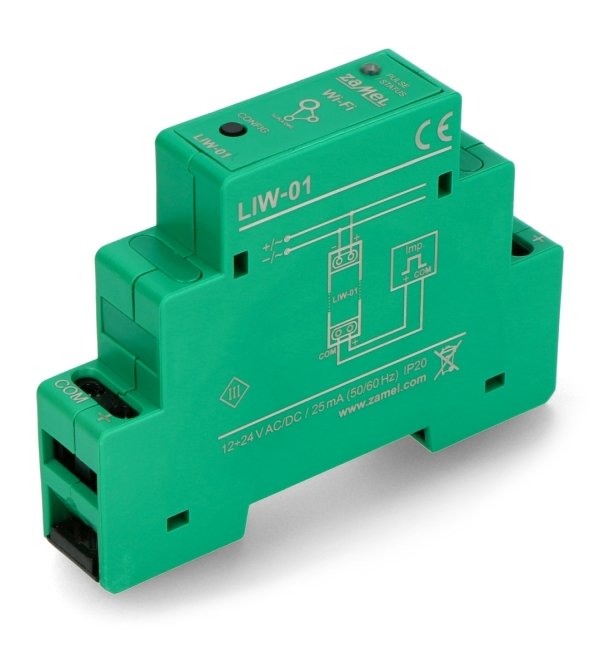 Zamel LIW-01 WiFi pulse counter.
Main features of the Zamel LIW-01 pulse counter
Universal pulse counter from energy, water and gas meters.
Easy to configure.
Consumption data and network parameters presented in the Supla application.
Counts pulses from inputs or pulse overlays in counters.
Transmits and provides data to the cloud.
Connects wirelessly via WiFi, access to data from anywhere in the world.
Powered by 12 and 24 V AC / DC.
Enables data export to Excel file and sharing via REST API.
Developed SUPLA community.
Pulse counter specification
Power supply voltage: from 12 V to 24 V AC / DC
Communication: 2.4 GHz WiFi 802.11 b/g/n
Installation: DIN TH35
Degree of protection: IP20
Dimensions: 90 x 66 x 17.5 mm
Weight: 50 g