Product description: Zamel Supla MEW-01 Lite - 3F + N WiFi electricity consumption monitor
The Zamel MEW-01 Lite module allows for remote electricity measurement for 3 phases via wireless communication. The Lite version has a built-in WiFi antenna, which makes it suitable for small switchboards with plastic doors. The module is mounted directly on the TH35 DIN rail, it takes the place of two modules. MEW-01 is a 3-phase, bidirectional monitor, so it is suitable for both input and feed-in monitoring. Data is collected in the Supla mobile application and can be sent via MQTT. The set also includes 3 SC-16 100 A transformers .
Our offer also includes the Zamel MEW-01 version with an external antenna - check it out!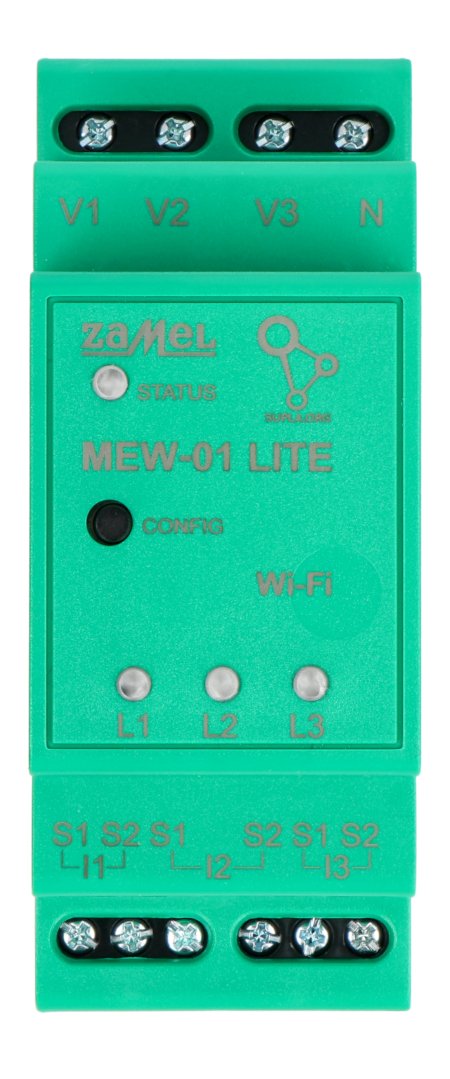 Zamel MEW-01 Lite - energy meter for photovoltaics.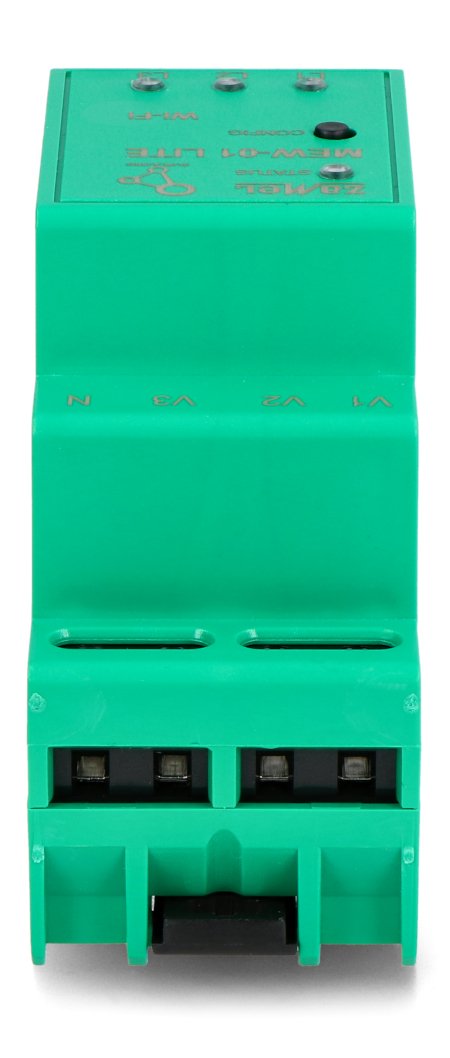 Energy consumption meter equipped with screw connections.
Main features of the Zamel MEW-01 Lite meter for photovoltaics
The set includes three SC-16 100 A current transformers.
It communicates via a WiFi wireless network as a standalone device, without the need for a control panel. Possibility of remote monitoring from anywhere in the world.
Measurement of consumption and generation of electricity as well as current, voltage and power in three phases.
Possibility to measure energy on one phase.
Possibility to send and access measurement data in the cloud. Downloading measurement reports to an Excel file and sharing via REST API.
Possibility of integration via MQTT.
Multidimensional analysis of electricity consumption data and measured network parameters. Measurement charts available in the Supla application.
The connection diagram of the Zamel MEW-01 Lite energy meter
Zamel MEW-01 Lite is equipped with terminals in the form of screw connections, to which the wires should be connected with a screwdriver:
V1, V2, V3 - connection of the supply circuits (L) on which the measurement is to take place.
N - connection of the power cord, ground.
3x S1, S2 - inputs for connecting transformers. S1 - black wire, S2 - red wire.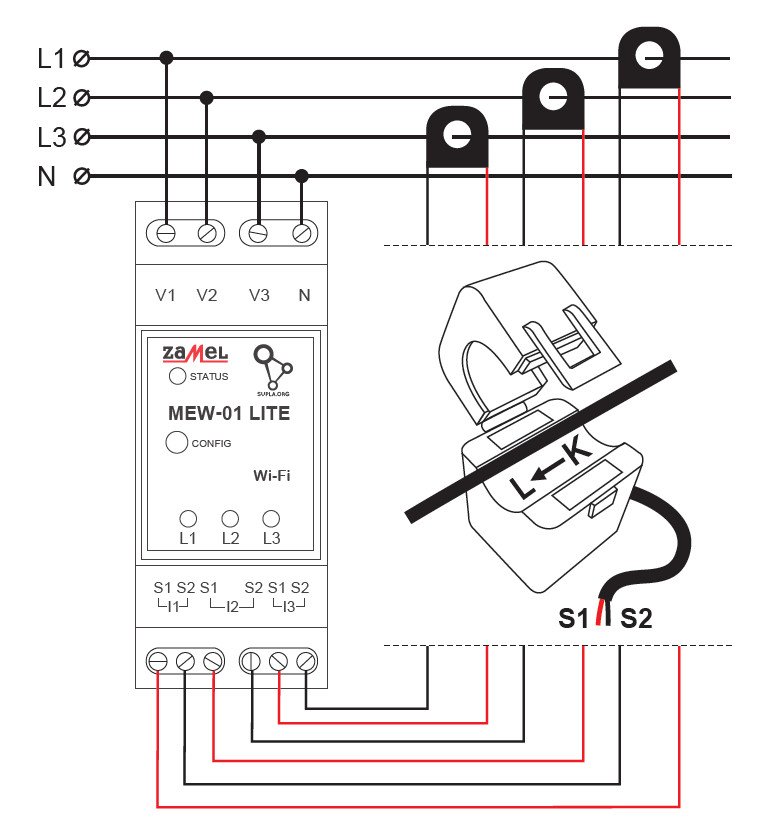 Electricity meter connection diagram.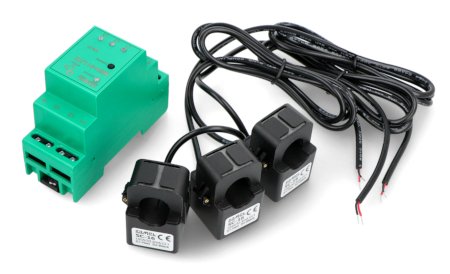 Kit contents.
Specification of the electricity meter Zamel MEW-01 Lite
Rated voltage: 3x 230 V / 400 V AC
Voltage tolerance: 20% to 15%
Nominal power consumption: 1.5 W
Frequency: 50/60 Hz
Transmit power: ERP <20mW
Measurement accuracy: Class 2 (± 2%)
Transformers measurements: from 0.1 to 33.3 mA / 100 A
Working temperature: from -10 ° C to 55 ° C
Optical indication of power supply: LED diode for each of the phases
Environmental resistance: IP20
Maximum cross-section of conductors: 10 (conductors with a cross-section of up to 2.5 mm2 )
Housing mounting: TH-35 DIN rail, 2 modules
Communication: WiFi 2.4 GHz 802.11 b / g / n
Operation range: WiFi network range
Dimensions: 90 x 35 x 66 mm
Weight: 375 g
Kit contents
1x Zamel Supla MEW-01 Lite - 3F + N WiFi electricity consumption monitor
3x SC-16 100 A current transformer