‌
Product description: WiFi gas sensor - Zamel CGZ-02
The Zamel CGZ-02 gas sensor detects explosive gases, such as: natural and propane-butane. The device continuously monitors the composition of the air and when a dangerously high concentration of these hydrocarbons is detected, an acoustic and visual alarm is triggered, allowing for taking appropriate measures in advance to prevent gas poisoning or explosion. The built-in WiFi module enables remote control of the sensor using a smartphone and the Tuya application .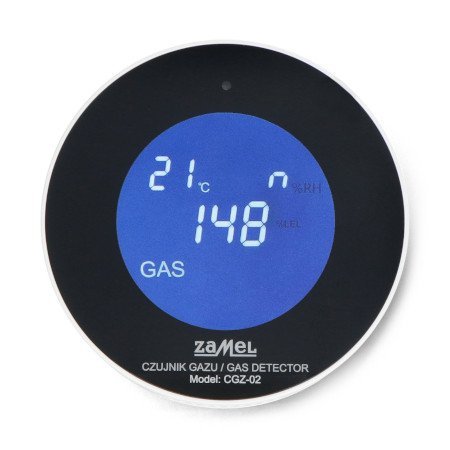 Wi-Fi gas sensor - Zamel CGZ-02.
Features of the sensor
Complies with the standard for gas sensors: EN 50194-1: 2009
Detects dangerous concentrations of natural gas and LPG (propane-butane)
The device supports the Polish language
It has a built-in WiFi module
Enables remote control of the sensor
Semiconductor sensor
Powered by the AC adapter
It has optical alarm signaling
It has an alarm sound signaling
It has a self-diagnosis system
It has been equipped with additional temperature measurement functions
Gas detection alarm level approx. 10% LEL
Technical specification of the product
Power supply: 5 V (power adapter included)
Loudness: 85 dB
Protection degree: IP20
Working temperature: 0 ° C to 40 ° C
Sensor type: semiconductor
Gas detection alarm level: ~ 10% LEL
Optical signaling: yes
Working humidity: 10% to 95% RH