Product description: Lead expander - 4-channel - with I2C multiplexer - PCA9546 - STEMMA QT / Qwiic - Adafruit 5664
Module with a multiplexer manufactured by Adafruit and equipped with the PCA9546 chip, which is a replacement for the popular TCA9548A chip. The module allows you to connect up to 4 separate I2C digital buses to one microcontroller interface. The I2C bus address occupied by the multiplexer is 0x70 , it can also be configured in the range from 0x70 to 0x77 using jumpers located at the back of the module. The pinouts are STEMMA QT/Qwiic connectors, evenly spaced on both sides of the board.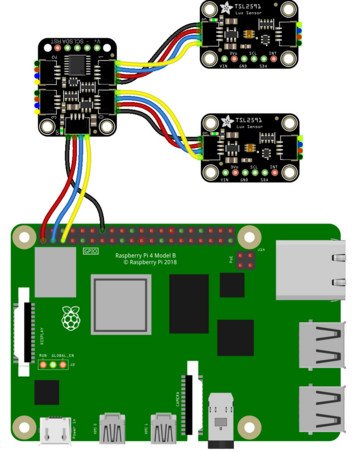 Example connection diagram. The subject of the sale is only the pin expander - Raspberry Pi, cables and peripherals must be purchased separately.
Connection diagram and pin description
The pins of the module are STEMMA QT / Qwiic connectors that allow quick connection to peripheral devices without the need for soldering. Connect the pins according to the relations below:
VIN - 3 V power pin (red wire)
GND - system ground (black wire)
SCL - clock line of the I2C bus (yellow wire)
SDA - I2C bus data line (blue wire)
Product compatible with Arduino and Raspberry Pi!
The manufacturer has prepared a user's guide , which contains a detailed description of the pins and sample program code - check it out!
Module technical specification
Type: lead expander with multiplexer
Built-in chip: PCA9546
Number of channels: 4
Communication interface: I2C bus
Bus address: 0x70, adjustable from 0x70 to 0x77
Supply voltage: 3 V to 5 V or 3 V / 500 mA
Pins: STEMMA QT/Qwiic connectors
Board dimensions: 25.3 x 20.3 x 4.8 mm
Weight: 2.5g
Kit contents
Lead expander - 4-channel - with I2C multiplexer - PCA9546 - STEMMA QT / Qwiic
Goldpin strip 1x6 - raster 2.54 mm

Components included in the set.