Product description: ADXL313 - I2C/SPI Qwiic 3-axis accelerometer - SparkFun SEN-17241
A module developed bySparkFun, featuring theADXL3133-axis accelerometer chip, which featureslow power consumptionandhigh resolution up to 13-bit, designed to measure velocity up to± 4g. The board allows measurement of static gravitational acceleration in tilt sensor applications and dynamic acceleration resulting from motion or shock. The sensor communicates via anI2C or SPIinterface, and twoQwiicconnectors are also provided on the board. The ADXL313 has high resolution and low noise, resulting in a tilt change resolution of 0.1°, while the integratedFIFOfacilitates the use of oversampling techniques to improve resolution to 0.025°. The integrated FIFO can also be used for data storage to minimize host CPU usage, resulting in reduced power consumption.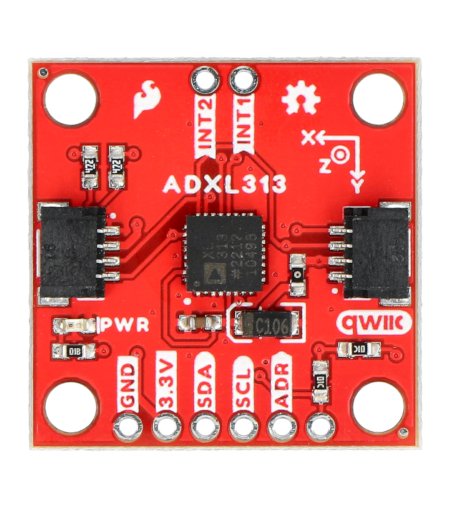 ADXL313 accelerometer module.
ADXL313 Accelerometer Leads
The ADXL313 accelerometer module is equipped with twoQwiicconnectors which make it easy to connect the module to a board equipped with the same connector using theI2Cinterface. On the board there are also holes for soldering goldpin strips with 2.54 mm pitch. The module works withI2C and SPIinterface. There is also a jumper for I2C address selection. Module operates with voltage3.3 V.
| Pin | Description |
| --- | --- |
| GND | System ground. |
| 3,3V | Supply voltage 3.3V. |
| SDA | I2C bus data line. |
| SCL | I2C bus clock line. |
| ADR . | I2C address change pin. |
| CS | Chip Select pin for SPI bus. |
| SDO | SPI bus data output line. |
| SCLK | SPI bus clock line. |
| SDI | SPI bus data input line. |
| INT1/INT2 | External interrupt outputs. |
Main features of the ADXL313 accelerometer module
Operating voltage: 3,3 V
Communication: I2C / SPI
Measuring range: ±0.5g, ±1g, ±2g, ±4g
Resolution: up to 13-bit
Low power consumption:

less than 300 µA at maximum data rate
0.1 µA in idle mode

Low noise: 150 µg/√Hz
Built-in detection functions:

activity (presence of motion) and inactivity (no motion)
User-defined acceleration level to any axis
functions can be assigned to interrupt pins
32-level FIFO to reduce CPU usage and system power consumption

Self-Test function
I2C address: 0x1D (default) / 0x53
2x Qwiic connector
Example of connection between module and ADXL313 accelerometer.