Product description: DFRobot Solar Power Manager 9 V / 12 V / 18 V
Modulethat manages energyfromsolar panels. Powered by9 V/12V /18V panels. It has a converter with three individual ON / OFF buttons and outputs:
5 V / 1.5 A;
3.3 V / 1 A;
9 V / 0.5 A,
12 V / 0.5 A,
Thus, it can be used as a charger of3.7 V Li-Pol packsor USB charger. The module has also a number of protections: against reverse polarity, too high temperature, short circuit.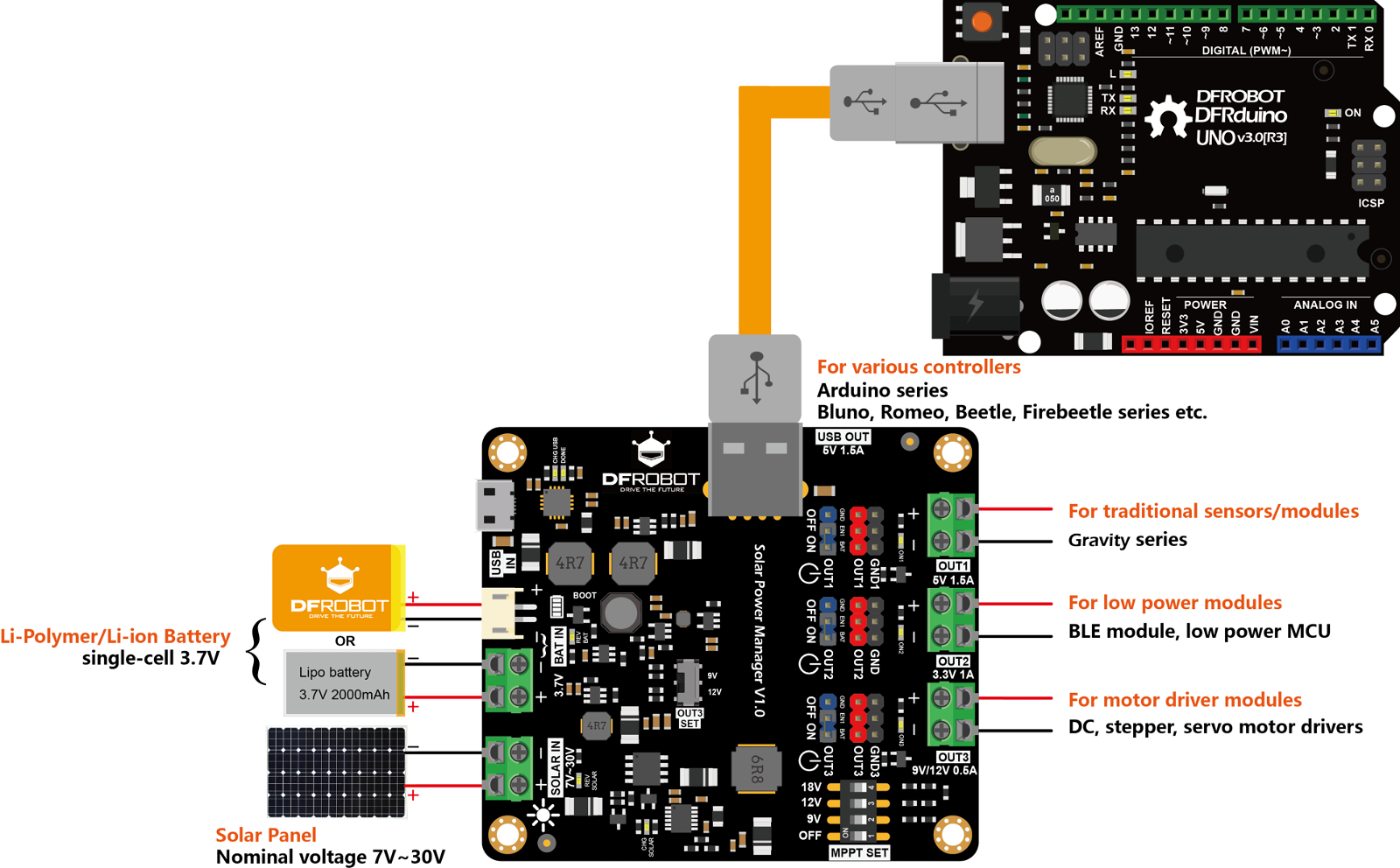 Example of connection withArduino.
Main features of DFRobot Solar Power Manager
MPPT constant voltage algorithm, increasing the efficiency of the solar panel.
Solar panel input voltage from 7 to 30 V.
Different charging modes: solar / AC adapter / USB charger (maximum current 2 A).
Three individually controlled, adjustable ON / OFF power supply for low power applications.
Ceramic capacitors (MLCC), safe, stable, high quality.
Various protections.
USB connector with ESD.
Application of Power Management Modules
Solar powered robot
Intelligent solar environment monitoring system
Intelligent solar street lamp
Solar power bank
Technical specifications of DFRobot Solar Power Manager
Circuit: LTC3652
Solar input voltage: from 7V to 30V
Battery input: Li-Pol 3.7 V 1C
Charging current: 2 A max.
Charge cut-off voltage: 4,2 V

± 1 %

MPPT voltage settings: OFF / 9 V / 12 V / 18 V
USB input voltage: 5 V
Adjustable power supply:

OUT1: 5 V / 1.5 A
OUT2: 3.3 V / 1 A
OUT3: 9 V / 12 V / 0.5 A

Adjustable power supply efficiency:

OUT1: 86 % at 50 % load
OUT2: 92 % at 50 % load
OUT3 (9 V): 89 % at 50 % load

USB charging capacity: 84 % at 1 A
Solar charge efficiency (18 V): 78 % at 1 A
Maximum quiescent current: less than 3 mA
Protections:

BAT IN: against overcharging / against discharging / against too high current / against reverse polarity
OUT1 - OUT-2 / USB output: against short circuit / against overcurrent / against overheating
SOLAR IN: against reverse polarity

Operating temperature: from -40 °C to 85 °C
Dimensions: 78 x 68 mm
Kit contains
Solar Power Manager
3x black jumpers
4x nylon spacer M3
4x Screw M3
Aluminium heat sink 14 x 14 mm
14 x 14 mm silicone thermal paste
Female DC connector adapter