Product description: Fermion - Air quality sensor - SGP40 - DFRobot SEN0392
Air qualitysensor from the companyDFRobot. The module is equipped with a chipSGP40produced by a popular company, which is Sensirion. Through the SGP40 chip, the module measures the VOC air quality in the rangefrom 0 ppm to 1000 ppm. Measured values are presented in the form of VOCindex indications- taking the value from 0 to 500. Air quality depends on what range the reading is in - the lower VOC index value, the cleaner the air. The module uses theI2Cbus to communicate with the connected controller board. The longer thesensoris used, the better the sensitivity and accuracy of the trend and change. In an environment with potentially low air pollution, the sensor can obtain an accurate VOC indicator almost immediately after use. When measured in a heavily polluted environment, the sensor can obtain an accurate VOC indicator approximately 1 hour after being turned on.
Functional overview
Low current consumption - about 2.6 mA
The module has built-in temperature and humidity compensation, no need for calibration
Data presented via VOC indicator for direct indication of air quality
Used in applications such as air purifiers, kitchen hoods, thermostats, and indoor air quality monitoring systems
Kit contents
Air quality sensor - SGP40
1x4 goldpin strip - 2,54 mm pitch
VOC index
from 0 to 100 - air quality: excellent
100 to 200 - air quality: good
200 to 300 - air quality: slightly polluted
300 to 400 - air quality: slightly polluted
400 to 500 - air quality: very polluted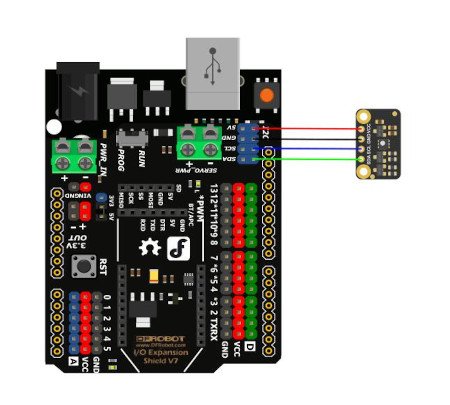 Schematic of the connection of the DFRobot sensor with the Arduino equivalent circuit board. The board is not part of the kit, it can be purchased separately.
Leads description and connection diagram
The sensorhas solderfieldswheregoldpinconnectors should be soldered. Kit includes dedicated 1x4 strip with2,54mmpitch. Using this type of connector allows you to connect the sensor with a controller module - Raspberry Pi or Arduino and boards related to them. You should connect the components according to the relationship:
VCC (+) - power supply from 3.3 V to 5 V
GND (-) - system ground
SCL (C) - I2C bus clock line
SDA (D) - I2C bus data line
Technical specification of the sensor
Type: air quality sensor
Embedded circuit: SGP40
Measurement range:

VOC: 0 ppm to 1000 ppm
VOC index: 0 to 500

Power supply: from 3.3 V to 5 V
Operating current: 2.6 mA
Start-up time: 10 s
Response time: 2 s to 3 s
Communication interface: I2C bus
Interface address: 0x59
Operating temperature range: from -10°C to 50°C
Storage temperature range: from 5°C to 30°C
Operating humidity range: 0% to 90% RH
Dimensions: 18 x 11.5 mm