Product description: Tripler Mini Kit - prototyping board - 2 fields - extension to Feather - Adafruit 3417
Prototypingboard from Adafruit. It allows you to plug intwoFeatherWingperipherals and oneFeathermain module. The Tripler Mini Kit hasthreeleads for each Feather pin and prototyping fields. Additionally, the three rows of pins arecross-connectedwith a full strip of connected pads for GND and 3.3V power. Module dimensions are71,25 x 51 x 12 mm.
In our shop you will also find main modules from the Feather family and a wide range of compatible peripherals.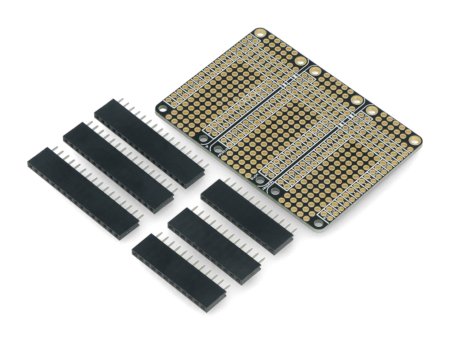 The kit includes connectors that need to be soldered on by yourself.
Technical specification of the prototyping board
Type: Prototyping board
Compatible with modules from the Feather family
Number of fields:

for peripherals: 2 fields with female pins for connecting Feather extensions and overlays
for Feather controller: 1 field with male pins for plugging in the Feather family main module (with solder connectors)

Board dimensions: 71.25 x 51 x 12 mm
Weight: 18.2 g
Soldering required
Kit contents
Prototyping PCB - 2 terminal board
Goldpin female strip - 1 x 16 pin - 6 pcs.