Description: Arduino Nano Every
The Every model is based on theATMega4809 AVRprocessor with a 20 MHz clock, 48 kB flash memory and 256 B EEPROM. The user has30 pins,15 on each side. TheATSAMD11D14Amicrocontroller is responsible for communication with PC. The board has dimensions 45 x 18 mm.
Offered board has a lead for self-assembly. In our offer we also have a version withconnectors.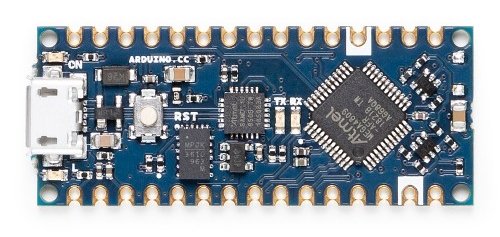 Arduino Nano Every.
Programming and possibilities of Arduino Nano Every.
You can program the Arduino Nano Every board viaArduino IDE, both onlineand offline.MicrocontrollerATSAMD11D14Aworks as USB - UART converter. On the 30 pins you can findGPIO, SPI, I2C, PWM, USART and ADCamong others. Power and RESET pins are also available.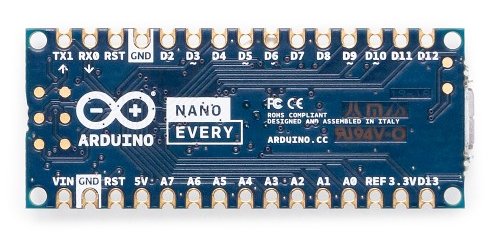 Arduino Nano Every output.
Main features of Arduino Nano Every
Nano user has 14 digital pins, 6 PWM outputs and 8 analogue pins. Arduino Nano Every can be powered via microUSB port with 5 V or via V in with 6 V to 21 V.
Pin
Designation
Type
Description
1
D13
Digital
SPI, SCK, GPIO
2
+ 3V3
Power output
Power supply for external devices
3
AREF
Analogue
Reference pin, can be used as GPIO
4
A0 

Analogue

ADC input, can

be used as GPIO

5

A1

Analogue

ADC input

,

can

be used as GPIO

6
A2

Analogue

ADC input

,

can

be used as GPIO

7
A3

Analogue

ADC input

,

can

be used as GPIO

8
A4 / SDA

Analogue

ADC input

,

can

be used as GPIO

9
A5 / SCL

Analogue

ADC input

,

can

be used as GPIO

10
A6

Analogue

ADC input

,

can

be used as GPIO

11
A7

Analogue

ADC input

,

can

be used as GPIO

12
+5 V
Power output

Power supply for external devices

13
RST
Digital input
Active reset
14
GND
Power supply
Mass
15
VIN
Power supply
Power supply
16
TX
Digital
USART TX

,

can

be used like GPIO

17
RX
Digital
USART RX

,

can

be used like GPIO

18
RST
Digital

Active reset

19
GND
Power supply
Mass
20
D2
Digital
GPIO
21
D3 / PWM
Digital
GPIO

,

can

be used like GPIO

22
D4
Digital

GPIO

23
D5 / PWM
Digital
GPIO

,

can

be used like GPIO

24

D6 / PWM

Digital
GPIO

,

can

be used like GPIO

25
D7
Digital

GPIO

26
D8
Digital

GPIO

27
D9 / PWM
Digital
GPIO

,

can

be used like GPIO

28
D10 / PWM
Digital
GPIO

,

can

be used like GPIO

29
D11 MOSI
Digital
SPI MOSI

,

can

be used like GPIO

30
D12 / MISO
Digital
SPI MISO

,

can

be used like GPIO
Specifications of Arduino Nano Every
Supply voltage: 6 V to 21 V
Microcontroller: ATMega4809

Clock: 20 MHz
Flash memory: 48 kB
SRAM 6 kB
EEPROM 256 B

Digital pins: 14
PWM pins: 6
Analogue pins: 8
MicroUSB socket
Interfaces: GPIO, SPI, I2C, USART, PWM
Transducers: ADC
Dimensions: 45 x 18 mm