Product description: Arduino Tiny Machine Learning Kit - machine learning kit with Arduino Nano 33 BLE Sense Lite - AKX00028
Arduino kit consisting of components to start learning aboutMachine Learning. Based on the kit, there arepaid coursescreated byHarvard University- HarvardX, after completion of which you can get a TinyML certificate. The kit consists of a powerful Arduino Nano 33 BLE Sense Lite board, which is equipped with a number of sensors that can be used in machine learning. The kit also includes an OV7675 camera and a custom-made overlay for the Arduino and camera, along with connectors for connecting additional sensors. Using the kit, you will be able to explore practical machine learning use cases using classical algorithms as well as deep neural networks supported byTensorFlow Lite Micro.
Machine Learning Kit
Using the kit, you will be able to create a small, smart device that will respond to sounds, recognize gestures or faces. All you have to do is create and program your model, and then train it using the intuitive software.
The HarvardX course
Course 1:

Helps you understand what machine learning (ML), deep learning and embedded machine learning, and neural networks are.

Course 2:

Training your machine using your own data sets.
Using external training models for your projects.
AI basics, real-world cases, and user scenarios.
you will learn and use some of the most commonly used techniques.
real-world applications in industry.

Course 3:

Hardware Basics.
you will code your own projects with TinyML.
you will train your own TinyML device.
you will implement, test, and improve your TinyML projects.
Main features of the Arduino kit
Arduino Nano 33 BLE Sense Lite - equipped with motion, acceleration, rotation, atmospheric pressure, sound, gesture, distance, color and light intensity sensor.
Overlay for Arduino, camera and other components.
Camera module OV7675
Development environment: Arduino IDE, Tesnor Flow, Google Collab
Contents of the kit
Arduino Nano 33 BLE Sense Lite board
OV7675 camera
Arduino Machine Learning Shield overlay
USB to microUSB cable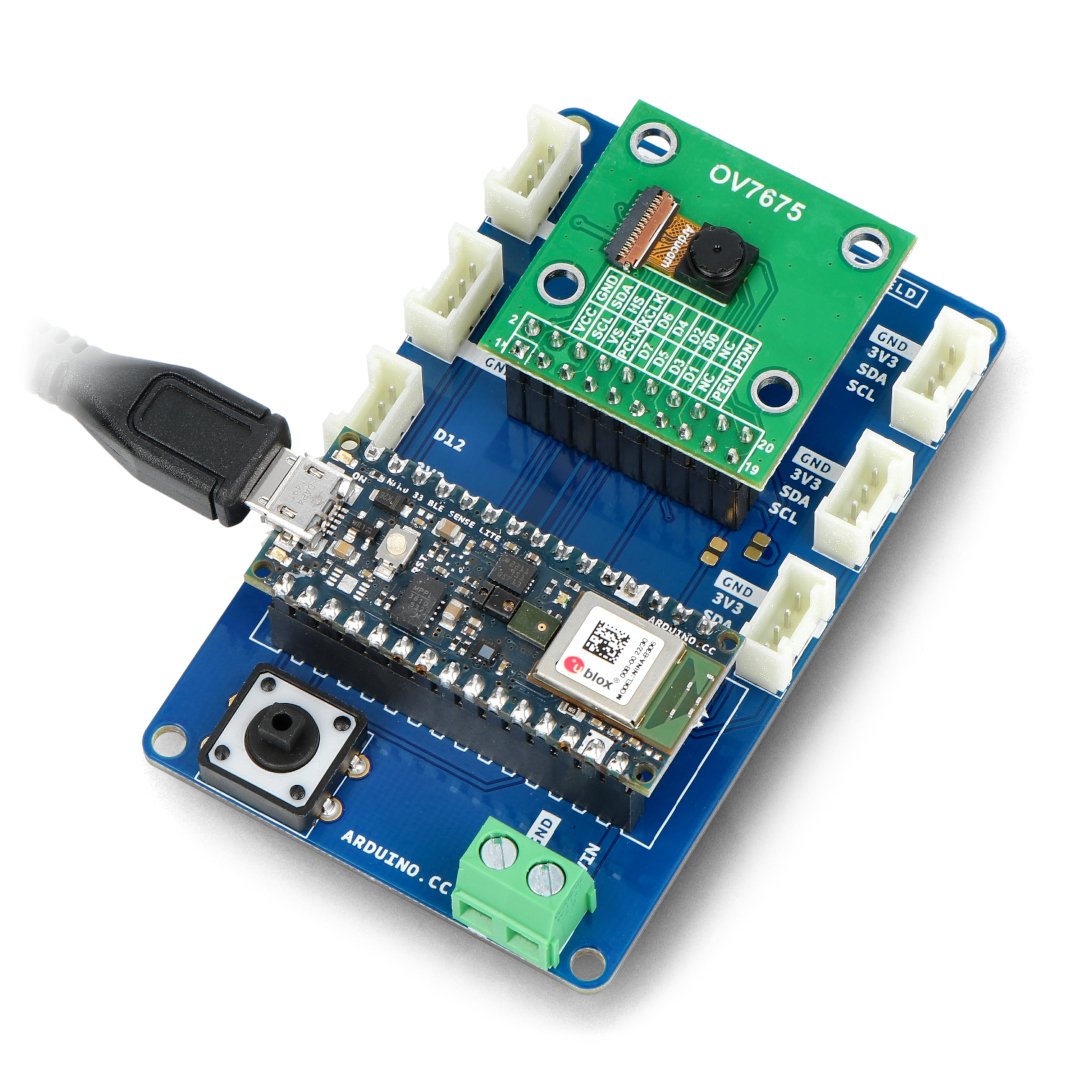 Example of connecting Arduino with Learning Shield and camera.