Product description: Iduino JoyStick Shield - overlay for Arduino
Iduino module with joystick and buttons that plugs directly into Arduino connectors. It has a two axis joystick knob and six buttons. It has I2C, Bluetooth, nRF24L01 andNokia 5110 display socket. It operates with 3.3 V and 5 V selectable by a slide switch.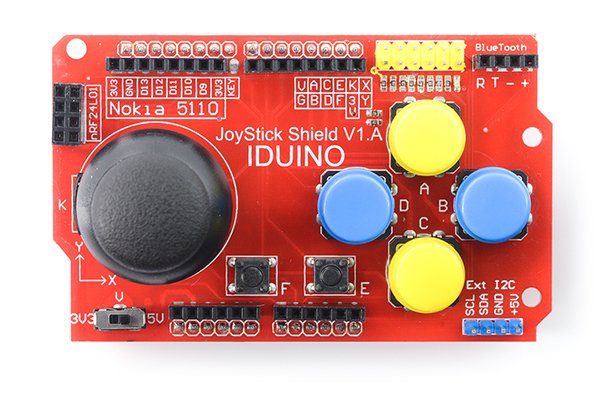 JoyStick Shield V1.A - frontend for Arduino - Iduino ST1124.
The module can be used as a remote controller after connecting additional modules nRF24L01 or Bluetooth. By adding the screen Nokia 5110 screen screen becomes a standalone games console. 3.3V - 5V switch allows to work with different modules Arduino and STM32.
Specification of Iduino JoyStick Shield overlay
Overlay for Arduino
Two axis joystick with button
4 large colorful buttons
2 small buttons
I2C interface connector
Bluetooth connector
Connector for nRF24L01 module
Display slot Nokia 5110
Module dimensions: 87 x 52 mm