Description of CNC Shield - 3D printer driver - Shield for Arduino
Shield for Arduino, which allows you to build a 3D printer driver or other CNC equipment's driver. Thanks to the four connectors for the motor driver, e.g. A4988, it facilitates the use of stepper motors. The board is compatible with G-codeinterpreter, GRBL. It has derived inputs and inputs of the movement directionof the steps for four drivers, inputs forend sensors END STOP and outputs of I2C bus and UART.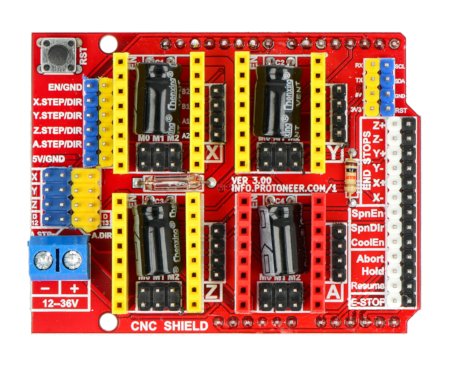 The module is compatible withArduino Uno and Mega- Arduino boards can be purchased separately.
Attention!
Shield is compatible with the Protoneerproduct - however, this is not an original product of this company.
With the ability to connect up to 4 stepper motors and a GRBL interpreter, creating your own 3D printer has never been eaier. Shield is assembled - requires no soldering. A motor driver, for exampleA4988, must be purchased separately.
Specification: CNC Shield - 3D printer driver - Shield for Arduino
Voltage motor power supply (depending on driver): from 12 V to 36 V
Power supply voltage is connected via a screw connector ARK
Operating voltage logic signal: 5 V
Connectors of the motor driver compatible withA4988and the like
Output signals: STEP and DIR signals for the four drivers: X.STEP / Y.DIR, X.STEP / Y.DIR, Z.STEP / Z.DIR, A.STEP / A.DIR
Output  connectors, UART and I2C
Inputs for end sensors, limit switches type END STOP:  Z+ / Z-, Y+ / Y-, X+ / X-,
Embedded capacitors 100 uF and 50 uF 8 mm
Resistors 10 ohms
Outputs for motors
Compatible withGRBL 0.8 c