Product description: DIP switch 6 pole - red - 5 pcs.
Slide switch, board switch with six levers. Raster of leads: 2,54 mm Height: 5,5 mm.
Components sold in a bundle of 5 pieces.
DIP switch specifications
Lead spacing : 2.54mm
Height : 5.5 mm
Number of levers: 6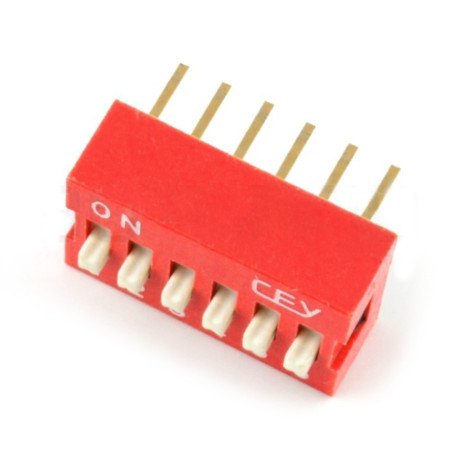 DIP switch 6 pole red - 5 pcs.
DIP switches allow you to manually change parameters, such as switching on or off a given circuit. Their advantage is that one block can be parallel responsible for different circuits, being connected to one PCB.
Red 6-pole DIP switch has six independent levers in white colour. The whole is made of high quality plastic and has a long lifetime.
DIP switch - perfect culture and performance
The red block cube shown here fits many PCB boards, including programmable electronics such as Arduino. The DIP switch will be a perfect choice if you want to set individual circuit parameters yourself in a manual way.
Visually attractive DIP switch has 2,54 mm pinout. The length of the highest edge is 5.5 mm. High quality gold-plated contacts guarantee the best transmission of electrical signals. Welcome!