Description: BleBox ThermoBox - WiFi heating controller - Android / iOS application
Ready to use controller BleBoxThermoBoxdesigned for intelligentcontrol of heating or cooling roomswith the possibility of using twodigitaltemperature probes. Module can be connected topotential or potential-freeconnectors. Allows you to control radiators, floor heating, pool heaters, central water heating, central furnaces and more. It communicates with wirelessWiFinetwork using wBox application for Android and iOS devices from any place in the world. Small dimensions of the module allow for installing it in a flush mounted box or receiver housing. Controller is equipped with screw connectors to connect the wires.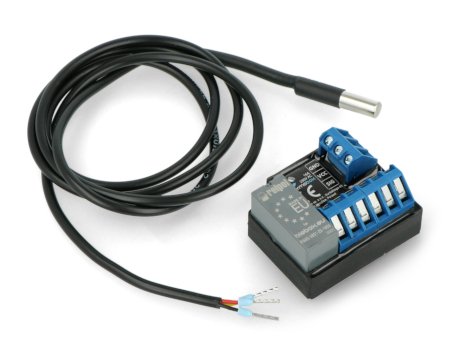 Heating controller with temperature probe - BleBox ThermoBox.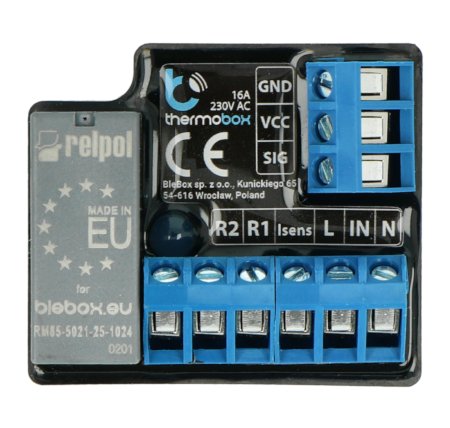 BleBox ThermoBox heating controller.
Main features of BleBox ThermoBox controller
Yearly history of temperature measurements
Can operate as a stand-alone device
Potential or potential-free connection
Measurement of electricity consumption possible
Convenient application interface
Working range of the probe from -50°C to 125°C
Schedule setting possible
Boost mode
BleBox ThermoBox controller wiring diagram
Before installing the controller should make sure that thepower supply circuit has been disconnected.The controller should be mounted in a place protected from access of third parties. The small dimensions of the module allow it to be placed in a deep flush-mounted box or housing of the receiver.
The module hasnine leadsto connect the receiver and the temperature probe. All leads were transferred toscrewterminals, where you should connect the wires using ascrewdriver.
R2- relay output
R1- relay output
L- power supply, phase line
IN- input for connecting monostable switch (bell switch)
N- power supply, neutral/ground line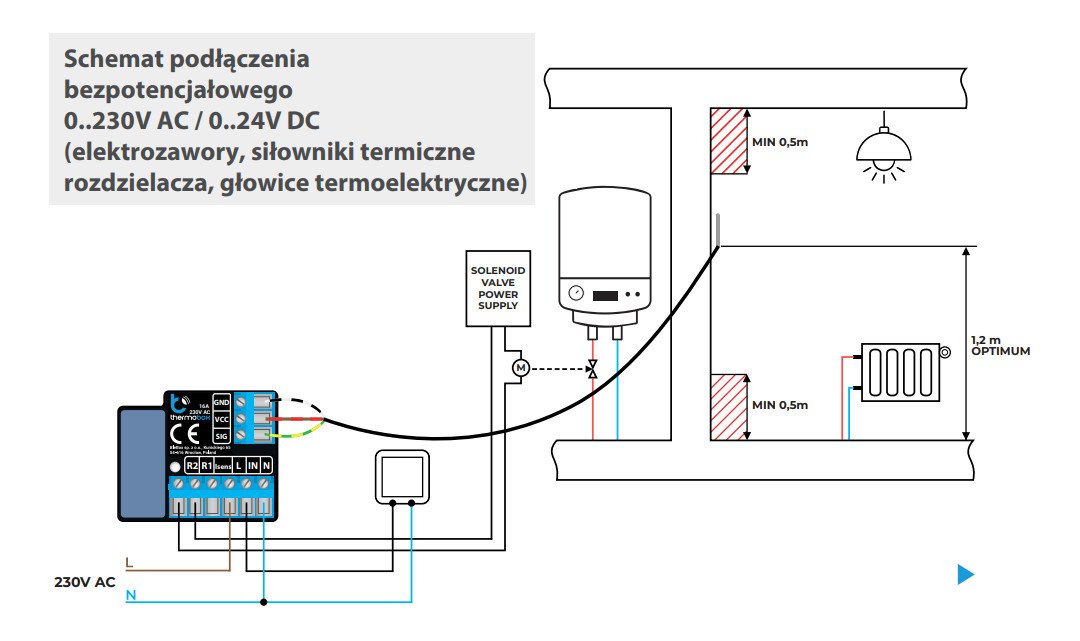 Example connection diagram of ThermoBox controller.
Configuration of driver in wBox application.
After a successful installation of the controller BleBox a new WiFi network will be visible, named"thermoBox-xxxxxxxx" where "xxxxxxxx" is a serial number of the device. After connecting to the network, open thewBoxapplication. At the top of the screen you will see the device, next to the name there will be a "+" sign. To configure the device click on the default device name.
Configuration can also be done using aweb browser. After connecting to the controller's network and typing www.blebox.eu into the search address field, the BleBox controller configuration page will appear.
BleBox ThermoBox controller specification
Supply voltage
230 V AC
Power consumption
up to 1 W
Number of outputs
1
Type of outputs
relay, galvanic separation
Maximum load
16 A / 230 V AC or 16 A / 24 V DC
Maximum power
3680 VA for 230 V AC (3680 for resistive load, e.g. heater)
Type of control inputs
Temperature measurement probe (probe included)
Galvanic separation
yes
Measuring range
from -55°C to 125°C
Accuracy of temperature measurement
± 0.5°C in the range from -10°C to 85°C
Housing
made of polyurethane composition, halogen-free, self-extinguishing for thermal class B (130°C)
Degree of protection
IP20
Mounting method
in a flush mount box (recessed or double), in the housing of the receiver - e.g. a radiator, air conditioner
Working temperature of the controller
from -20°C to 50°C
Transmission standard
µWiFi, compatible with WiFi 802.11g
Transmission
two-way, encrypted
Communication mode
WiFi direct connection (as an access point), WiFi connection (via a standard router), connection with access from anywhere in the world (only Internet access required)
API
open
Encryption
WPA2-PSK and authenticated encryption (AEAD)
Dimensions
47 x 41.5 x 12 mm