Product description: D24V5F3- step-down converter - 3.3 V 0.5 A
The DC-DC pulse controller converts the input voltage from3.4 V* to 36 Vinto a3.3 Voutput value.It allows for current consumption of up to 0.5 A. The system has a high efficiency of80 % - 93 %.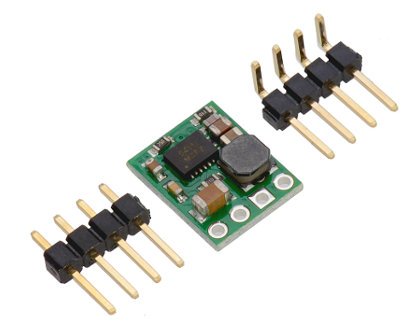 Polol D24V5F3 - step-down converter - 3.3 V 0.5 A.
Quotations
The module has four outputs:
VIN- input voltage.
GND- ground potential.
VOUT- output voltage.
SHDN- low state (below 0.4 V) switches the system into low power mode, where it consumes only 10 uA - 20 uA for each Volt of supply voltage. Pin is pulled to VIN by default through a 100 kΩ resistor. If the low-power mode is not usedSHDNcan be left unconnected.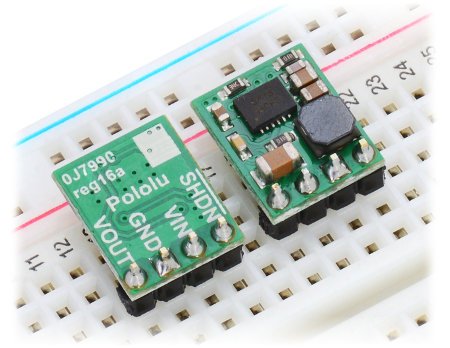 You can solder the popular goldpin raster pinned outputs to 2.54 mm (the set is included). The module can be plugged into thecontactboard,connected with wiresor placedin a dedicated printed circuit board.
Efficiency and output current
Efficiency is defined as the ratio of output power to input power (Power out)/(Power in). This is a very important parameter when working with portable energy sources (batteries and accumulators), where the time of operation on one charging cycle counts. The efficiency dependence on the input voltage is shown in the graphs below.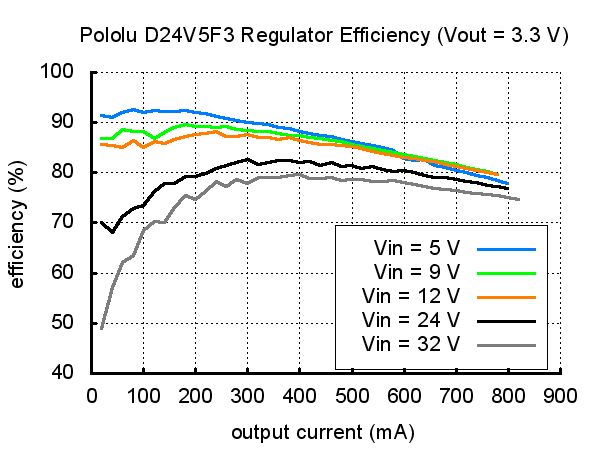 Voltage drop-out
The graph below shows the drop-out voltage dependence on the output current. For example, at 400 m consumption, the output voltage must be 0.5 V higher with an input value.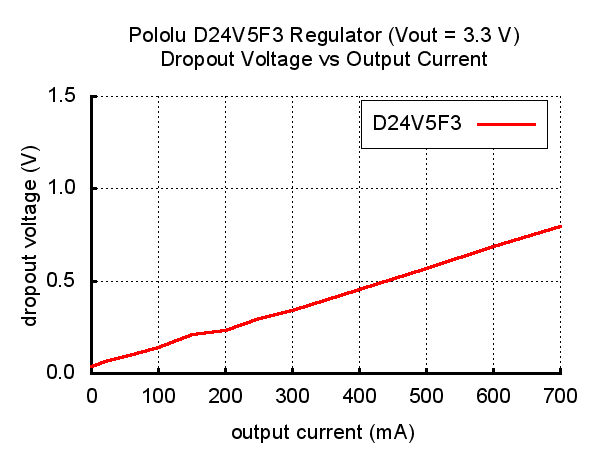 Dangerous voltage pulses
When connecting the power supply to the module, dangerous, short, high amplitude eclectic impulses (so-called pins) may appear, which may permanently damage the system. Polol's tests show that for voltages above 20 V, the pins may have an amplitude exceeding 42 V. In order to protect against this undesirable phenomenon, it is recommended to solder a capacitor of at least 33 uF / 50 V as close as possible to the pins supplying the converter.
Inverter specifications
Input voltage: 3.4 V* to 36 V
Output voltage: 3,3 V
Accuracy of output voltage: 4 %
Maximum output current: 0,5 A
Switching frequency: 500 kHz
Built-in security:

against excessive power consumption
before too high a temperature

Controller: ISL85415(documentation)
Dimensions: 13 x 10 x 3 mm
Weight: 1 g (without connectors)
* Lower input voltage limit depending on the drop-out voltage -details on the chart.