Product description: LM3671 - 3.3V 0.6A step-down converter - Adafruit 2745.
The DC-DC pulse controller converts the input voltage from 3.5 V to 5.5 V to an output value of 3.3 V. It allows for current consumption of up to 600 mA. The system has a high efficiency of 90 % - 95 %.
Connection of the inverter
The set includes a goldpin strip for self-soldering. The descriptions are described in the table below.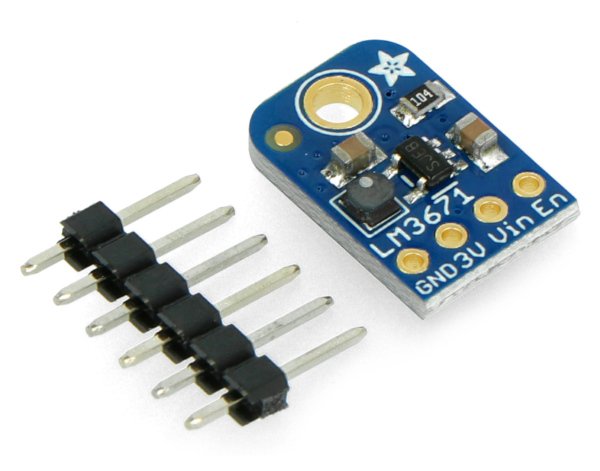 | Pin | Description |
| --- | --- |
| VIN | Input voltage from 3.5 V to 5.5 V. |
| GND | The weight of the system. |
| 3V | Output voltage 3.3 V |
| EN | Pin Enable - When a low state is given, the output voltage is disconnected. The output is in high state by default - the inverter is on. |
LM3671 step-down converter specifications
Input voltage: 3.5 V to 5.5 V
Output voltage: 3,3 V
Maximum output current: 600 mA
Switching frequency: 2 MHz
Outlets:2.54 mm goldpinconnectors, self-soldering (included)
Compatible with the popular TO-220 enclosure
Dimensions: 16 x 10 x 3 mm
Weight: 1 g (without connectors)