Description: E-paper E-Ink V2.0 2,13'' 250x122px - cap for Raspberry Pi - SPI - DFRobot DFR0591.
A module in the form of an overlay for theRaspberry Pi 4B / 3B+ / Zero Wminicomputer with a2.13"two-colorE-paperdisplaywith a resolution of250 x 122 px. It communicates viaSPIinterface. The overlay also has leads so you can still use the Raspberry Pi pins when you put the overlay on the GPIO pins. The screen allows you to displaydifferent fonts. It provides a clear image even in bright sunlight. When the power is disconnected, the screen will continue to display the last image.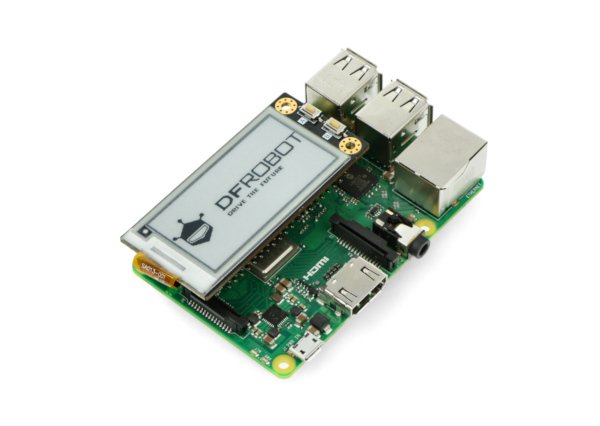 Overlay compatible withRaspberry Pi 4B / 3B+ / Zero W, minicomputer can be purchased separately.
E-paper display specification
Power supply voltage: 3,3 V
Model: GDEH0213B73 
Resolution: 250 x 122 px
Diagonal: 2,13"
Interface: SPI
Colour: black and white
Refreshing: full or partial
Refreshment time: 3 s for full / 650 ms for partial
Power consumption during refreshing: 26.4 mW
Connector: 2x20-pin raster 2.54 mm
Dimensions: 66.5 x 31 mm
Contents of the display set
E-paper display overlay
2x distance
4x screw