Description: Fiberlogy ABS Plus 1,75 mm 0,85 kg - Black
ABS Plus felt is designed for 3D printers. The product has a mass of 0,85 kg, is wound on a spool and vacuum packed with moisture absorber. Recommended printing temperature ranges from 250°C to 270°C. The diameter of the filament is 1,75 mm. ABS filament can be used for printing various types of handles, containers, covers, cases, etc. The material is characterized by high strength. The colour of the filament is black. ABS Plus is recommended to print in closed chamber.
For every material in our offer we offer ready made profiles for Cura program, which enable to use felt immediately and without any configuration. For this purpose we import file dedicated for particular model.
Properties of the felt
Increased strength
Resistance to high temperatures and scratches
Possibility of mechanical and chemical processing
High resistance to cracking under load
Suggested parameters for printing with felt
| | |
| --- | --- |
| Printing temperature | From 250°C to 270°C |
| Table temperature | 90°C to 110°C |
| Closed chamber | Recommended |
Due to differences in printer construction, the above data should be treated as guidelines, and the appropriate values should be determined experimentally.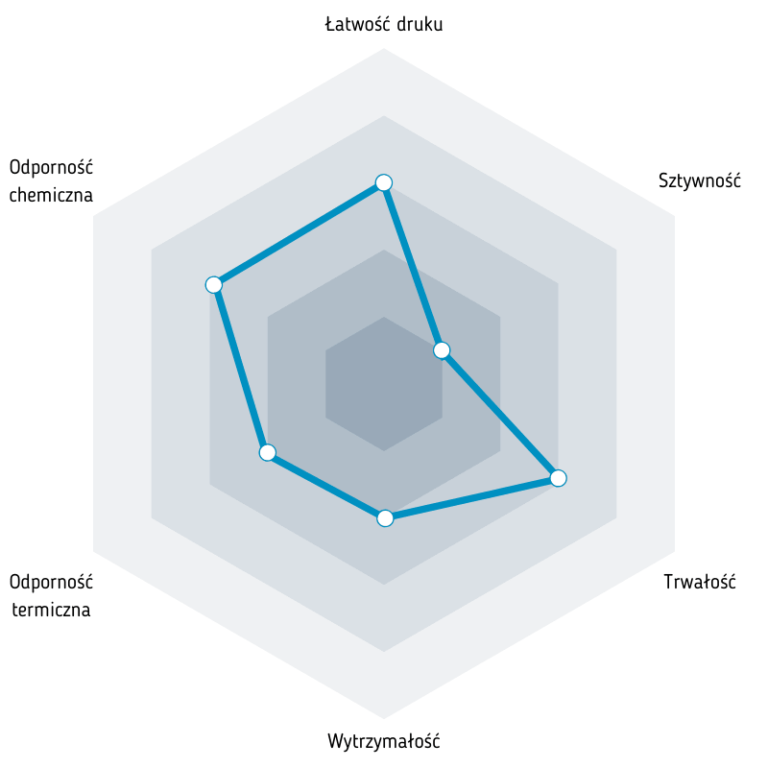 Graph of physical properties of ABS Plus felt.
Technical specification and physical properties of the felt
| Parameter | Range |
| --- | --- |
| Felt diameter | 1,75 mm |
| Dimensional tolerance of the filament | +/- 0.02 mm |
| Colour | Black |
| Printing temperature | From 250°C to 270°C |
| Table temperature | From 90°C to 110°C |
| Density | 1.1 g/cm3 |
| Printing speed | From 35 to 60 mm/sec. |
| Spool material | ABS Plus |
| Moisture absorber | Yes |
| Vacuum packaging | Yes |
| Roundness | +/- 0,01 mm |
| Net weight | 0,85 kg |