Product description: Fermion - analog NO, NO2, H2 gas sensor - MEMS MiCS-2714 - DFRobot SEN0441
An analog NO, NO2 and H2 gas sensor manufactured by DFRobot. The MEMS MiCS-2714 sensor module can measure hydrogen and nitric oxide concentrations. It detects hydrogen (H2) from 1 ppm to 1000 p pm and nitrogen dioxide (NO2) from 0.05 ppm to 10 ppm. The board is powered by 5 V, has an analog voltage output and an activating EN pin for low power consumption.
Analog NO, NO2, H2 gas sensor - MiCS-2714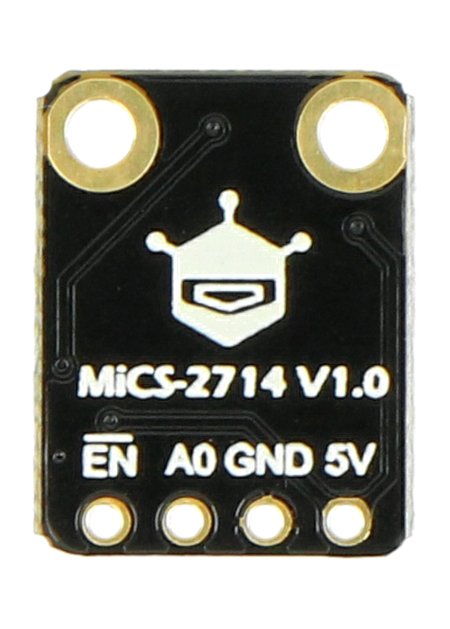 Moud³ DFRobot Fermion with gas sensor.
Main features of the gas sensor
Detects NO, NO2 and H2 gases
Integrated calculation formulas for different gases
Low power consumption
Analog interface
Compatible with 5 V microcontrollers
Application of the sensor
Gas leak detection
Gas safety equipment
Air pollution detection
MiCS-2714 sensor terminals
The MiCS-2714 sensor module uses an analog interface for communication. It is powered by 5 V. It has 4 pinouts in form of holes, where goldpin connector can be soldered.
5V - 5V power supply voltage
GND - ground
A0 - analog output
EN - switch on/off pin (activated by low state)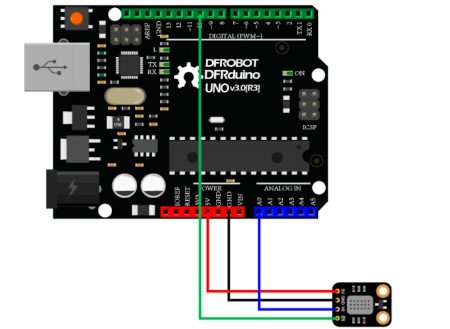 Example of sensor connection with Arduino.
MiCS-2714 gas sensor specification
Detected gases: H2, NO2, NO
Supply voltage: 4.9 V to 5.1 V
Power consumption: 0.45 W
Output signal: analogue quantity
Measuring range:

H2: from 1 ppm to 1000 ppm
NO2: 0.05 ppm to 10 ppm

Working temperature: from -30°C to 85°C
Operating humidity: 5% to 95% RH
Storage temperature: from -40°C to 85°C
Service life: over two years (in air)
Mounting hole diameter: 2 mm
PCB dimensions: 12 x 16 mm
Weight: 7 g