Description
Sensor for measuring acceleration in three axes in the range +/- 2 g, +-4 g, +g -8 or +-16 g. The module is powered with the voltage from 3.3 to 5 V, it has a voltage regulator, it communicates via an I2C bus. The sensor is characterized by low current consumption, in a standard operation, about 11µa. The module has two programmable systems for detecting free decrease and motion, and built-in temperature sensor.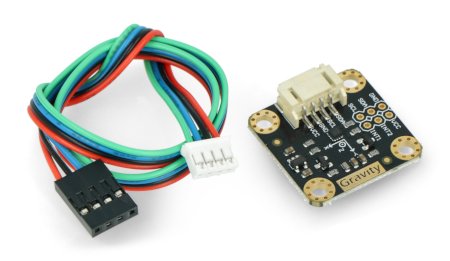 The product is compatible with Arduino
Connection diagram with Arduino can be found atthis address.
Specification
Voltage: from 3.3 V to 5 V
Current consumption: 2µa to 11

µa

Communication: Gravity - I2C

Sensitivity range:

± 2 g / ± 4 g / ± 8 g / ± 16 g

Frequency: from 1 Hz to 5 KHz

2 programmable noise generators for the detection of free decrease and motion

Built-in temperature sensor

Working temperature: from -40℃ to 85

℃

Dimensions: 26,2 x 26.2 mm

Weight: 12 g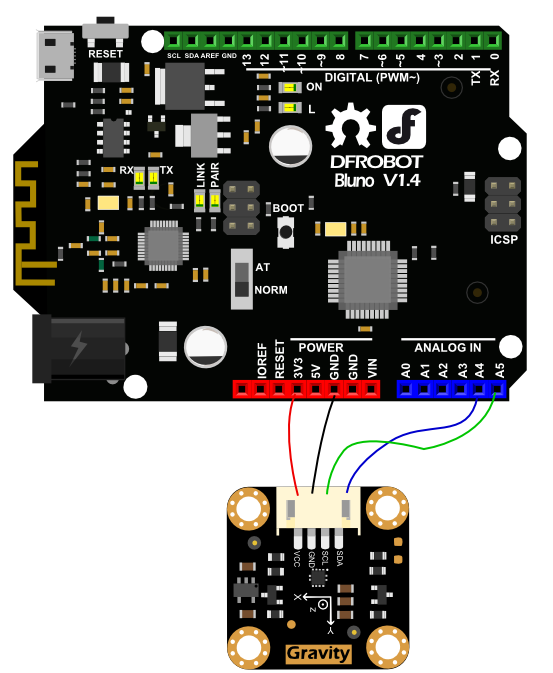 | Pin | Description |
| --- | --- |
| VCC | Supply voltage from 3.3 V to 5.0 V. |
| GND | The ground of the system |
| SCL | Clock line of the I2C interface |
| SDA | Data line of I2C interface |