Description
The joystick is similar to the analog devices used in controllers for games. The determination of the direction of movement is done via two potentiometers - one (10 kΩ) for each axis. The device also has a button activated by pressing the knob.
Connection
The joystick is equipped with connectors of Gravity that allows you to directly connect it to the board of Arduino by using the expander of the pins of Gravity insights v7.1.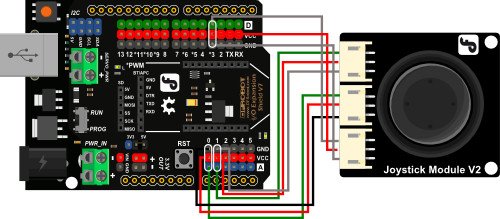 Information about the position of the knob is transmitted via an analog signal, in which the voltage corresponds to the given position. Each axis has a separate analog output. The status of the button is determined via the digital output, which, if turned on, reaches a low status.
The product is compatible with Arduino
For Arduino users, the manufacturer has prepared a user manual for connection along with the sample  code.
Specification
Supply voltage: from 3.3 V to 5 V
Resistance of the potentiometer: 10 kΩ
Interface:
Gravity connectors 
Dimensions: 35 x 39 mm
Weight: 15 g