Description
Module from the Gravity series enables the processing of the current signalfrom 0 mA to 25 mAinto a voltage signalfrom 0 V to 3V. The sensor may be connected to the Gravity expansion module of pins V7.1. It is supplied with the voltage from 3.3 V to 5 V.
Connection
The product is compatible with Arduino
The connection instructions and detailed information can be found inthe user guide.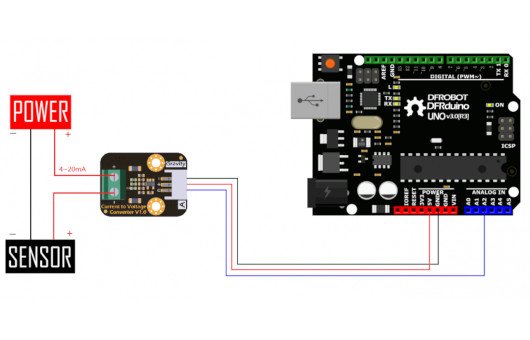 Example of connection diagram with Arduino module.
Specification
Supply voltage: from 3.3 V to 5.5 V
Current range: from 0 mA to 25 mA
Measurement accuracy:

16-bit: +/- 0.5% F. S
10-bit: +/- 2%

Resistance: 120 Ω
Connector type: connector PH 2.0-3P

Interface: Analog

Dimensions: 30 x 22 mm