Description
Module EEPROM from series Gravity, allows for memory expansion on the data with 256 KB in Arduino - based on the system24LC256 from Microchip Techonogy Inc. It communicates through interfaceI2S, it is powered by voltage from2.5 V to 5.5 V. The EEPROM is characterized by almost infinite number of read cycles, and very low energy consumption.Data is saved also after power-off.The kit also includes a cable suitable forGravity DFRobot IO Expansion Shield.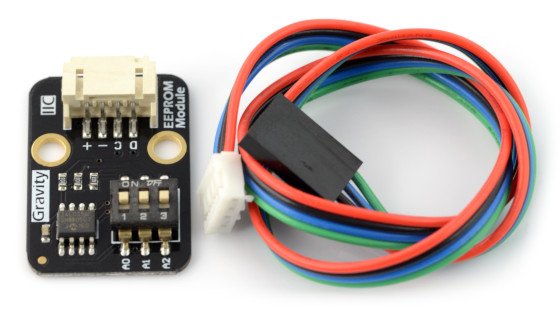 Pins
The system has four pins on a special connector to which the cable is included in the package.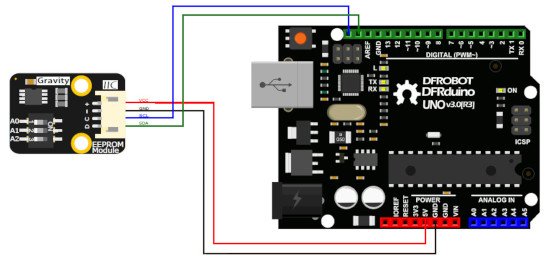 Example of connecting the module toArduino Uno.
| Pin | Description |
| --- | --- |
| VCC | Supply voltage: 2.5 V to 5.5 V. |
| GND | The ground of the system. |
| SCL | Clock line of I2C interface. |
| Traffic | Data line of I2C interface. |
Specification
Supply voltage: 2.5 V to 5.5 V
System: 24LC256
The amount of available EEPROM memory: 32 K x 8 (256 Kbit)
The current consumption during reading: maximum 400 uA at 5.5 V and a frequency of 400 kHz
The current consumption during sleep: up to 1 uA at 3.6 V
Interface: I2C
Working temperature: from -40 ℃ up to 125 ℃
Dimensions: 30 x 21,05 mm
Mounting holes: 3.5 mm
Weight: 10 g