Product description: Gravity - Analog ORP Sensor Meter Pro - Analog ORP Water Quality Sensor - DFRobot SEN0464
The Pro version of the Analog ORP Water Quality Sensor Meter features a platinum indicator electrode and a silver chloride reference electrode, which provides 24-hour ORP measurement and significantly increases product life. A new signal converter provides a more stable reference voltage, making the sensor measurement more accurate. The module is equipped with a screw connector and a waterproof connector to create an ORP monitoring system. The ORP sensor is used to test the purity of water (Oxidiation-Reduction Potential). ORP is a measure of the ability of an aqueous solution to oxidize and reduce, indicating the relative degree of oxidation or reduction. The unit of measurement is mV. If the oxidation-reduction potential is high, chemical oxidation is strong, whereas if the potential is lower, oxidation is weaker. A positive potential means that the solution shows some degree of oxidation, while a negative potential means that the solution shows some degree of reduction. ORP is an important indicator of water quality, but as a sensor alone cannot demonstrate water quality, it can be combined with other water quality indicators to better reflect the measurement.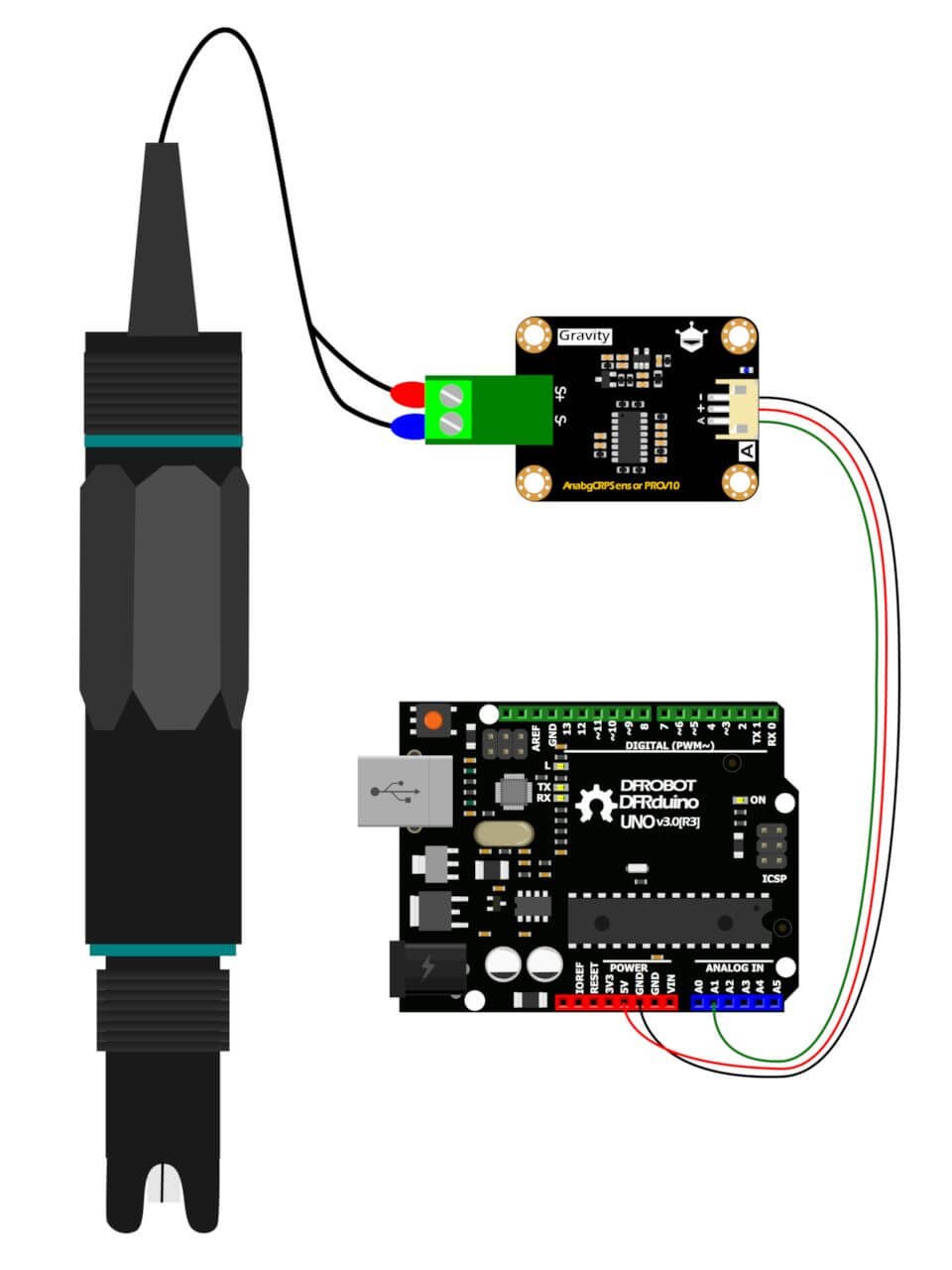 Example of connecting ORP sensor with Arduino.
ORP water quality sensor specification
Signal converter:

Input voltage: 5 V
Input signal: 0.5 V to 4.5 V
Input interface: screw connector with 5.08 mm pitch
Measuring range: from -2000 mV to 2000 mV
Output interface: Gravity 3-pin connector with 2 mm pitch
Dimensions: 42 x 32 mm

Industrial ORP probe:

Indicator electrode: platinum
Reference electrode: silver chloride
Operating temperature: from 5°C to 70°C
Electrode potential: 245 mV to 270 mV
Internal resistance of reference electrode: up to 10 kΩ
Electrode stability ± 8 mV / 24h
Contents of Kit
ORP analog signal converter
Industrial ORP probe
Waterproof industrial cable connector
Waterproof cable gland
Nylon screw
Nylon spacer