Description
High-precision sensor that measures the concentration of CO2 (carbon dioxide) in the air. Equipped with analog output, works with a voltage 5 V. Operates in the range from 400 to 5000 ppm. The kit includes a cable adapted to cap DFRobot IO Expansion Shield. The module is characterized by high sensitivity, high resolution, low power consumption, fast response time, high stability and long service life.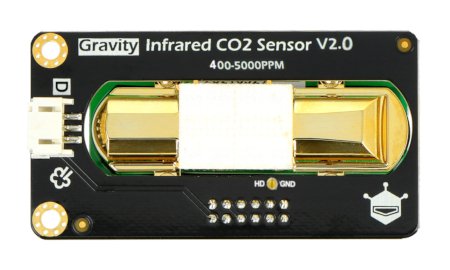 Communication
Sensor with analog output. The voltage at the analog output increases along with the increase of the CO2 concentration.
The product is compatible with Arduino
Sample code and detailed information can be found inthe user guide.

The sensor works with any microcontroller that has analog inputs, includingArduino. To read data, simply connect the power and the output pin for any analog input of the microcontroller and then, read the measurement result.

Example of connection of the sensor.
Specification
V2.0
Supply voltage: 5 V
Current consumption: approx. 40 mA
A level of logic signal: 3.3 V / 5 V
Output signal: PWM
Measuring range: 400 to 5000 ppm
Accuracy: +/- 50 ppm + 3% reading
Heating time: 1 min
Response time: 120 sec
Operating temperature: 0°C to 50°C
Operating humidity: 0% to 95% RH
Dimensions: 37 x 69 mm
Weight: 34 g
Set includes:
Carbon dioxide sensor

 CO2

Connecting cable