Description of product: DFRobot Gravity: LED RGD digital module
Digital RGB module provides a possibility of cascade connection, compatible with RGB LED tape. It works with most popular controllers, such asArduino,micro:bit,Firebeetle,LattePanda,RaspberryPi, and with different types of extensionsDFRobot IO.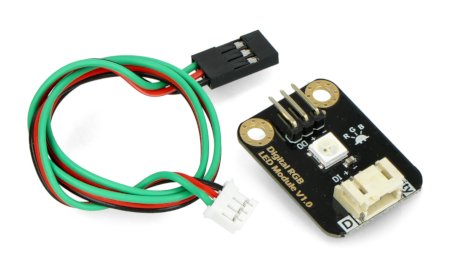 DFRobot Gravity: LEDRGB digitalmodule. In our offer we also have other interestingmodules.
The construction of the digital RGB LED module DFRobot
Thanks to individual module design to control the single diode simply one pin for signal, instead of three, as is standard in LED tape. This solution has a much lower power consumption. This allows you to power a hundred of modules connected in a cascade, which power consumption does not exceed 5 V, 2 A.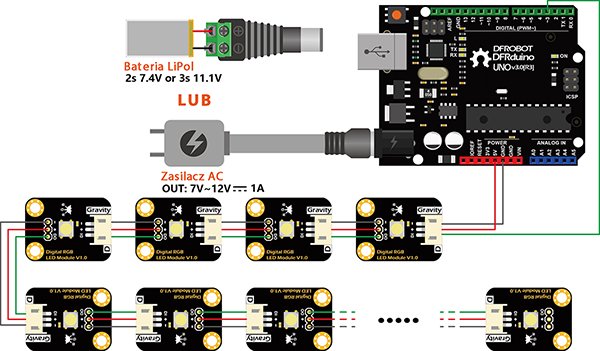 The scheme of the cascade connection of the modules on the example of aDFRduino UNO. For power you can usebatteriesorthe power supply.
Examples of application
Christmas decorations
Signal indicator
Specification of digital LED RGB
LED type: 5050 RGB WS2812
Input voltage: from 3.3 V to 5.5 V
Maximum current: 48 mA
Quiescent current: 0,7 mA
Interface: 3P Gravity Digital
Dimensions: 30 x 22 mm