Product description: Gravity - TCS3430 Tristimulus colour sensor - DFRobot SEN0404
Manufactured by DFRobot, this color sensor features the TCS3430 Tristimulus chip. It offers the user advanced digital ambient light detection (ALS) and CIE 1931 trichromatic color detection (XYZ). It has the ability to adjust ±10% of illuminance and correlate color temperature accuracy. It features a wide dynamic range and high measurement sensitivity.
CIE1931 XYZ Tristimulus Model
A kind of standard which is a special colour palette designed primarily for the human eye (photoreceptors). The CIE1931 colour space encompasses all colour sensations that are visible to a person with average vision. The spectral response of the TCS3430 sensor is almost identical to that perceived by human eyes, which in turn accurately determine illumination and colour temperature. These features make the sensor useful when shopping online, for example, in order to determine the real colour of the products being purchased.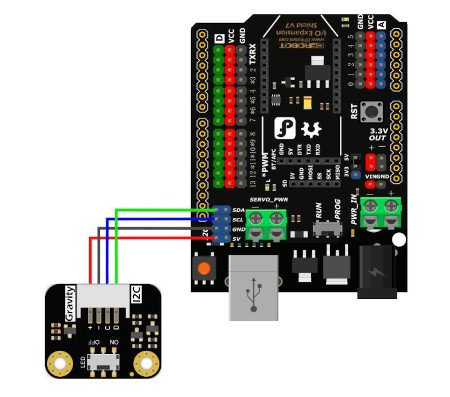 An example of connecting a color sensor with I/O Expansion Shield V7 board - which is an Arduino derivative.
Suggested application
Colour detection
Illumination detection
White detection
Color temperature detection
Pinout Description
"+" - Power pin from 3.3 V to 5 V
"-" - chip ground
"C" - SCL, I2C interface clock line
"D" - SDA, data line of I2C interface
Switch ON/OFF - LED switch
Product compatible with Arduino
Detailed user guide is available on manufacturer's website, which makes it easy to start working with the module. It includes connection diagram, TCS3430 library for Arduino IDE environment and sample program code.
Technical specification
Power supply range: 3.3 V to 5 V
Current consumption: < 5 mA
Communication interface: I2C bus
Interface address: 0x39
Operating temperature range: -30°C to 85°C
Module dimensions: 22 x 27 mm
Set contents
Gravity - TCS3430 Tristimulus color sensor - 1 piece
Connection cable with Gravity 4-pin I2C / UART connector - 1 piece