Product description: Gravity - ENS160 Air Quality Sensor - DFRobot SEN0514
The sensor module is based on the ENS160 chip, which is used to monitor indoor air cleanliness. It processes IAQ (Indoor Air Quality) data such as TVOC (Total Volatile Organic Compounds), eCO2 (equivalent CO2), AQI (Air Quality Index). It is powered from 3.3 V to 5.5 V. The module has a Gravity connector. It consumes very little power and is very accurate. It communicates via an I2C interface.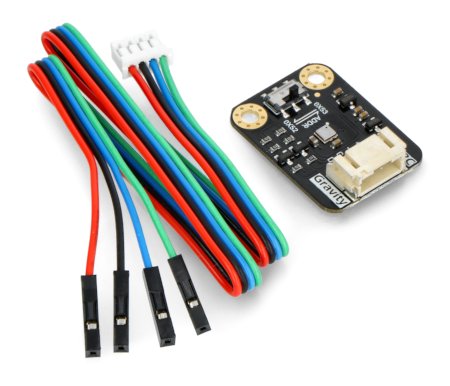 Gravity - ENS160 air cleaner sensor - DFRobot SEN0514.
Connection diagram of ENS160 air cleaner sensor - DFRobot SEN0514
The diagram shows the connection of the module to the DFRduino board. The sensor uses Gravity connector for communication (cable included). Terminals of the ENS160 air cleaner sensor:
+: power supply
-: Ground (GND)
C: I2C clock line
D: I2C data line
Features of DFRobot sensor
Less than 3 minutes warm-up time, fast data reading
Accurate data reading due to high quality chips
Environmental data reading: TVOC, eCO2, AQI
Specification of ENS160 air purity sensor
Supply voltage: 3.3 V to 5.5 V
Current consumption: 29 mA
Communication interface: I2C
I2C address: 0x52, 0x53
Operating temperature range: from -40°C to 85°C
Operating humidity range: 5% to 95% RH
Measuring range eCO2: from 400 ppm to 65000 ppm
TVOC measurement range: from 0 ppb to 65000 ppb
Module dimensions: 30 x 22 mm
Contents of the kit
Gravity - ENS160 Clean Air Sensor - DFRobot SEN0514
Cable Gravity - 4-pin I2C