Product description: Grove - LED String Light - LED driver
Grove series module that allows you to control the LED string attached to the kit. Supply voltage is from 3.3 V to 5 V. Since the LEDs work with 12 V, the module is equipped with AIC1896 inverters. The 5 meter strip holds 50 LEDs in different colors. The circuit is controlled by a logic state. The set includes a cable adapted to Seeedstudio Base Shield v2.0 overlay .
Connection
Module is equipped with Grove interface which makes it easy to connect it to Arduino together with Base Shield v2.0 or Raspberry using Hat GrovePi+.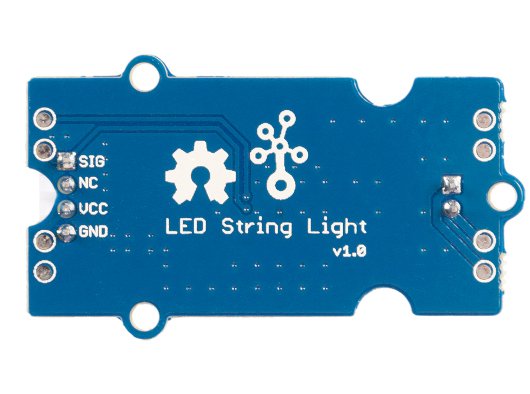 | Pin | Description |
| --- | --- |
| SIG | Signal output |
| NC | Not connected |
| VCC | Supply voltage 3.3 V or 5 V. |
| GND | System ground |
Specification
Supply voltage: 3.3 V / 5 V
Control: Logic state
5 meter long LED strip
50 different colored LEDs
Dimensions: 110 x 70 x 11 mm