Product description: Grove - RGB LED bar WS2813 - digital, addressed - IP65 30LED/m, 9W/m, 5V - 1m.
RGB LEDbar with Grove connector is equipped with digital, individually addressedWS2813diodes in density of 30 pcs. permeter.The diodes have been sealed with a layer of silicone ensuring water resistance in theIP65class. The strip is powered by5 Vand consumes9 W.One microcontroller pin is enoughtooperatethemodule(e.g. Arduino). The stripcandisplay 24-bitcolor palette.
Main features of Grove WS2813 RGB LED strip
Grove compatible - just connect the LED bar to Seeeduino or Arduino+ BaseShildviaGrove Cable.
WS2813 isan improvedversion of WS2812, which is more stable and stronger.
Electronic components are integrated with the LEDs.
The belt is covered with a removable siliconehousing.
LEDs type WS2813B IC, 5050 LED.
Waterproof, IP65.
Full colour RGB, 16777216 colours, 256 brightness levels.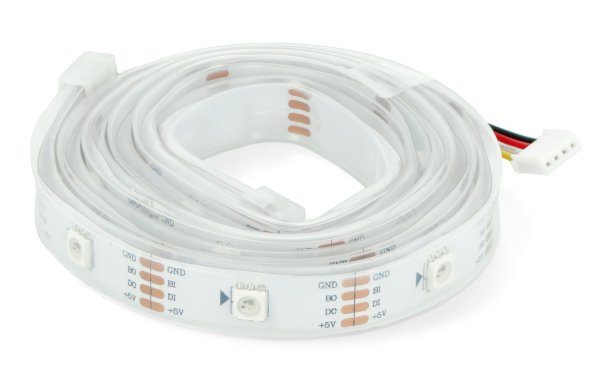 RGB LED bar WS2813.
RGB LED strip specifications
Power supply voltage: 5 V
Power consumption: 1.8 A/m / 0.06 A/diode
Power consumption: 9 W/m / 0.3 W/diode
Scan frequency: 2 kHz
Max. data rate: 800 kB/s
Reset time: 280 us (typical 300 us)
Diode life: 50000 h
Operating temperature: -40°C to 70°C
Storage temperature: from -50°C to 80°C
Dimensions: 1000 x 12 x 4 mm
Weight: 41 g