Product description: Fermion - LCD IPS TFT 1.8 "128x160 px SPI display - DFRobot DFR0928
The Fermion LCD TFT IPS display is based on the ST7735S driver, its diagonal is 1.8 " , and the resolution is 128 x 160 px . It uses a 4-pin SPI interface for communication. The built-in microSD memory card slot allows easy reading of color bitmaps from the memory card In order to connect the display with the main module, two methods can be used: standard connection via SPI or GDI (General Display Interface). The module can be easily connected to FireBeetle using the FPC tape. The board works with a voltage from 3.3 V to 5 V and draws up to 0.11 W of power.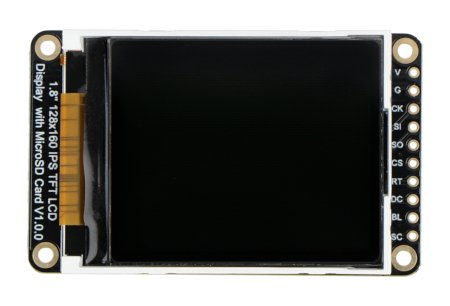 Fermion LCD IPS TFT 1.8 "series display.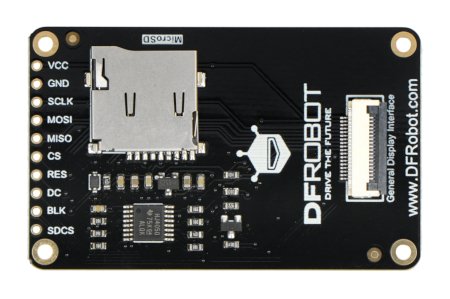 The module is equipped with a microSD card slot.
Main features of the Fermion screen
128 x 160 px resolution
4-wire SPI communication
Integrated microSD card slot
Screen application
Display of measurement data from sensors, alarm
Arduino temperature monitoring
Fan controller
The manufacturer provides a user guide along with sample Arduino code.
Fermion screen outputs
The Fermion display module for communication uses a 4-wire SPI interface. Works with a voltage from 3.3 V to 5 V. Can be connected to the FireBeetle module using the FPC tape.
VCC - power supply from 3.3 V to 5 V
GND - the ground of the system
SCLK - clock line of the SPI bus
MOSI - receiving SPI data
MISO - sending SPI data
CS - layout selection
RES - reset
DC - data / commands
BLK - backlight
SDCS - microSD card layout selection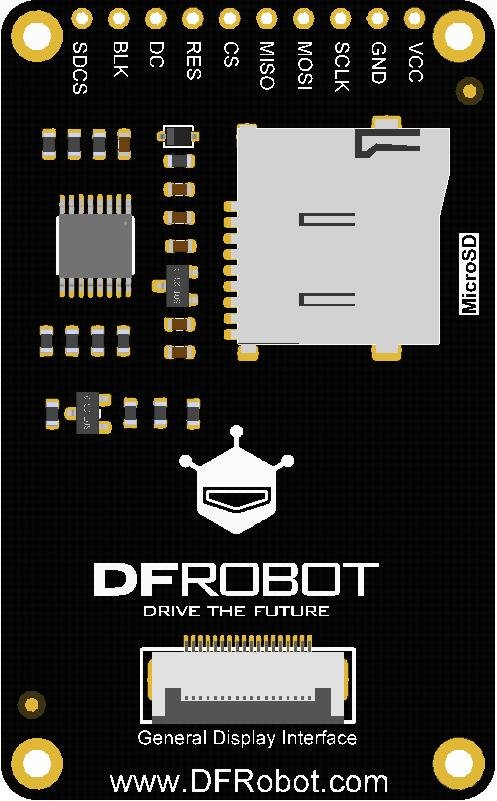 The pins of the module.
IPS TFT LCD Display Specification
Working voltage: from 3.3 V to 5 V
TFT viewing angle: 120 °
Number of pixels: 128 columns x 160 rows
Communication: SPI
Interface type: GDI, pin connector
Driver chip: ST7735S
Power consumption: 0.11 W
MicroSD card slot
Operating temperature range: -10 ° C to 60 ° C
Display area size: 26 x 35 mm
Module dimensions: 34 x 55 mm
Mounting hole spacing: 29 mm, 50 mm
Mounting holes diameter: 2 mm
Kit contents
1x Fermion - LCD IPS TFT 1.8 '' 128x160px SPI display - DFRobot DFR0928
1x GDI cable
1x 10-pin connector
‌